back
Nikolas Müller new Head of EBS Real Estate Management Institute
13.11.2023
On 1st October, Nikolas Müller took up his new position as Head of the Real Estate Management Institute (REMI) at EBS Universität. In addition, he has taken over the Managing Practice professorship Real Estate Management.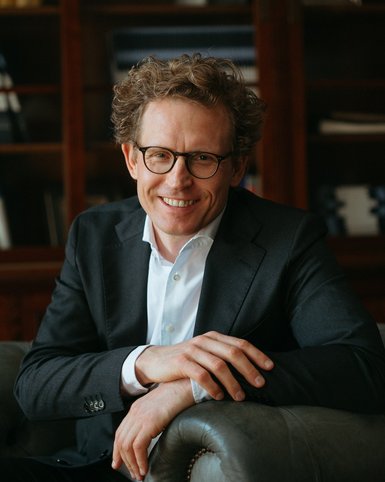 Architect Nikolas Müller succeeds Kerstin Hennig, who is taking on new professional challenges after five years at EBS Universität.
In recent years, Nikolas Müller's professional commitment has focused in particular on energy and climate policy for the building sector, new data usage strategies for city centre development and interdisciplinary leadership topics in the property industry. His position at the point of intersection between the real estate industry, technology and society offers an ideal starting point for the strategic further development of the Real Estate Management programme at EBS Universität and for strengthening the university's standing as a key institution in the real estate industry. In addition to his teaching activities, Nikolas Müller will be intensifying research and cooperation with industry partners.
"We are delighted that we have been able to recruit Nikolas Müller for the REMI," says Christian Landau, Dean of EBS Business School. "His expertise and his interdisciplinary, contemporary outlook on the property industry will make a valuable contribution to the strategic reorientation of teaching and research. We are convinced that he will inspire our students and advance their professional development."
New sponsorship contract with the Real Estate and Leadership Foundation
In association with Nikolas Müller joining REMI, the Real Estate and Leadership Foundation (REaL Foundation) has signed a new sponsorship contract with EBS. The members of the REaL Foundation include Assmann Beraten + Planen, agn Projektmanagement (pm.a), Drees & Sommer, apoprojekt, Völkel Company, ECE, Union Investment Real Estate, DC Developments, BAUWENS, Redos, Europa Center and the Sutor Foundation.
"The members of the REaL Foundation provide valuable impetus for research and teaching at REMI, particularly in the area of interdisciplinary issues and leadership topics," says Martin Böhm, Rector of EBS. "This intensive collaboration has already had a formative influence on our newly designed Master in Real Estate programme, which, like the Bachelor in Real Estate programme, is proving very popular."
"I'm looking forward to working with my co-director Jan Mutl, the team, the REaL Foundation and new partners at the renowned REMI," says Nikolas Müller. "This sector of industry is currently facing particular challenges. It is therefore the ideal time to reposition the REMI and to continue the excellent work done at the institute to date. It will be very exciting in terms of content."
REMI realigns itself as a think tank
In future, REMI will focus more on interdisciplinary and leadership topics, digitisation, new data usage strategies and entrepreneurship in the real estate industry as well as society-relevant issues. In this context, the Institute aims to act as a think tank and sparring partner for the real estate sector. A new aspect is that the entire spectrum of expertise of EBS Business School and Law School in the field of real estate will be exploited to the full. This makes the Real Estate Management Institute a unique cross-interface partner for the industry.