back
Strategic importance of AI technologies for companies
12.06.2023
In the EBS Executive Insight on 19 June 2023, Dr Robert Jenke gives the most important prerequisites for the use of AI in companies. In the interview, he provides a first insight into the topic.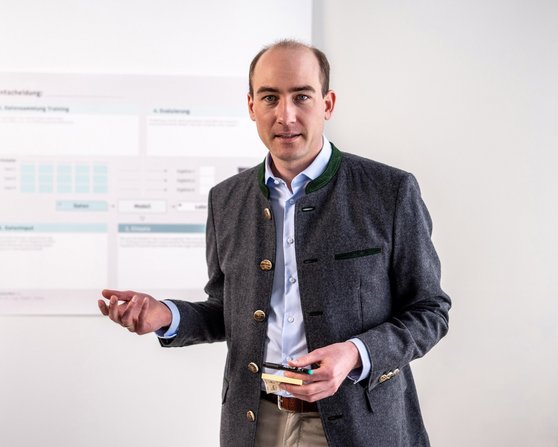 EBS: In which business areas do you already see the greatest changes resulting from the strategic use of data?
Dr Robert Jenke: There is hardly any area which is not impacted by this topic. Especially in marketing and sales, there are in the meantime some exciting concepts regarding automated data use. But there is a far greater potential when seen in the overall corporate context, which is often still considered to be a challenge.
EBS: Who will be the ultimate winner in this changing environment?
Dr Robert Jenke: Both empirical research in strategic management and my own experience in companies show that internal skills development is a decisive factor for success. Anyone making specific investments here are clearly at an advantage in this rapidly changing environment.
EBS: Can you give precise examples of how AI technologies have already contributed to increasing efficiency or generating new business opportunities in companies?
Dr Robert Jenke: There are numerous examples where companies have used AI technologies to boost efficiency or generate new business opportunities.
The German multinational industrial concern Bosch uses AI-based applications to automate and optimise a variety of processes. One specific example is the use of AI in their production and logistics. In their factories, AI-based systems are used to predict machine breakdowns and optimise maintenance planning. This means less downtime and thus a significant reduction in costs. In their logistics sector, they use AI algorithms to optimise warehouse management and transport, resulting in more efficient operations and lower warehousing costs. (It is important to note that automising business processes by using AI does not mean that human workers become redundant. On the contrary, AI can relieve employees from routine tasks, thus enabling them to focus on higher value tasks. Moreover, the implementation and maintenance of AI systems require expertise, which creates new jobs). Companies such as Netflix and Amazon use AI to create personalised recommendations based on users' behaviour and preferences. This has meant that they have significantly increased their revenues.
Predicting maintenance needs: companies such as Rolls Royce are using AI to predict maintenance requirements for their aircraft engines. This predictive maintenance allows them to reduce downtime and save costs.
EBS: Looking forward, how do you see AI technologies strategically strengthening companies in the long term?
Dr Robert Jenke: My vision is that AI technologies will become an indispensable strategic tool for companies in the coming years. I see AI as a driver of business innovation and a means to improve operational efficiency. AI is expected to play a key role in creating personalised customer experiences, optimising supply chains, promoting sustainable business practices and creating new business models.
EBS: What measures are you taking to ensure that your company has sufficient resources and skills to fully exploit the strategic importance of AI technologies?
Dr Robert Jenke: To ensure that companies can fully exploit the strategic importance of AI technologies, the following measures are necessary:
Employee training: It is important to invest in training the employees so that they acquire the necessary skills and know-how in dealing with AI technologies.
Partnerships and Collaborations: By collaborating with universities, research institutions, start-ups and other companies, businesses can gain access to new AI technologies and expertise.
Investing in infrastructure: It is important to invest in the necessary infrastructure to use AI technologies effectively. This includes cloud services, data storage and analytics tools.
Experimenting and learning: Artificial Intelligence is a fast-evolving field and there is still a great deal we don't know. Therefore, it is important to promote a culture of experimenting and learning. Companies should encourage their employees to try our new AI technologies, to experiment and to learn from these. This "heuristic" approach of learning through trial and error can lead to unexpected breakthroughs and innovations. It is also important to accept failure as a necessary part of the learning process. In many cases, a 'failed' experiment can provide valuable insights that can contribute to developing a successful solution.
Implementing ethical AI guidelines: Given the potential risks and challenges associated with the use of AI, it is important to implement ethical AI policies to ensure that AI is used in a responsible and transparent manner. (Keyword data governance, AI ethics, etc.)
Dr Robert Jenke is an internationally active expert in the field of data strategy and artificial intelligence and advises companies on the successful use of data. His focus in on training and methods to successfully implement specific AI applications. He is also a lecturer in the Data & AI-driven Strategic Processes certificate programme at EBS Universität für Wirtschaft und Recht and is an active member of the university council of the Hochschule der Bayerischen Wirtschaft (HDBW).
Click here to register for the event "EBS Executive Insights: From Big Data to Big Value with Dr Robert Jenke on 19.06.2023, 18:00 via Zoom.