back
Service Learning Center at EBS: Empowering Students, Transforming Communities
30.05.2023
The Service Learning Center at the EBS Universität is an exceptional initiative that combines academic excellence with community engagement.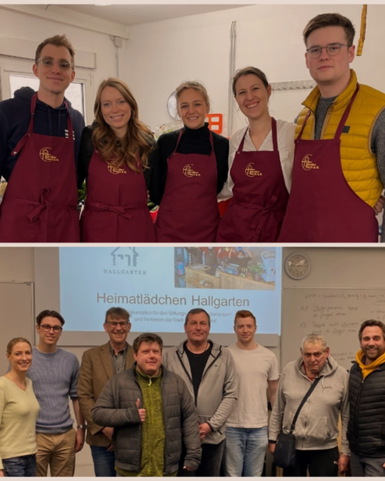 Through various projects, the center showcases the remarkable work undertaken by EBS students, demonstrating their significant impact on society. The students emphasise the importance of inclusion and promote equal opportunities for all.
Recently, some exciting projects have been initiated:
Eltviller Tisch:
A notable project was the cooperation with Eltviller Tisch e.V. to develop an online tool for better staff planning at food banks. Many food banks lack a good tool for planning the assignments of their volunteer staff. EBS Bachelor students, who completed their service learning project at the association "Eltviller Tisch e.V.", have now developed a digital tool for better staff planning for food banks. Similar projects were conducted at other regional food banks, extending the initiative's reach and impact. For Pia Morrow, it was "great to work with amazing people who respect their customers and are genuinely interested in helping." To give back, Pia and her team (Viola Damberg, Isabelle Schmidt, Johannes Jaud, Viktor Glittenberg, Yannik Schnell, Niklas Ruck) created manuals and educational videos for food bank managers and volunteers on how to create an online calendar for better planning.
Heimatlädchen of the Lebensraum Foundation in Hallgarten
EBS teams develop new ideas for the development and marketing of inclusive businesses in the region, such as the Lindentheater in Geisenheim operated by Vinzenzstift or the Heimatlädchen of the Lebensraum Foundation in Hallgarten. Nils Schröder, Christian Schmidt und Max Dickel got involved in their service-learning project for the Hallgarten Heimatlädchen of the Lebensraum Foundation. At a final event with the town of Oestrich Winkel and the foundation, they suggested purchasing an electric rickshaw and recruiting volunteers to work in the shop. They also recommended cooperating more with other local actors, establishing a fair-trade offer, and improving local signage.
Kinowette (Cinema bet)
Additionally, the Service Learning Center organised the Rheingauer Kinowette project, a cross-city competition in collaboration with the Lindentheater, aiming to expand the cinema's reach and foster community engagement among participating municipalities in the Rheingau region. Lukas Frings and his team (Wieland von Bredow, Lukas Pampus, Lena Sextro, Christian Döring und Leopold Mosel) supported the Lindentheater of the Vincenzstift in the area of marketing. They distributed flyers and posters as part of the Rheingau Cinema Weeks and optimized the social media presence.
Through these projects, the Service Learning Center addresses societal needs and provides valuable learning experiences that foster students' personal growth and leadership development. By connecting students, community institutions, and educators, the center creates a platform for collaboration that effectively responds to societal challenges. Through this unique approach, academic content is intertwined with real-world problem-solving, promoting the common good and empowering students to make a positive difference in their communities. Through these initiatives, students are entrusted with responsibilities that allow them to take ownership of their work and develop their leadership qualities.
EBS Service Learning has been run by the Centre for Business Ethics (ZFU) at the EBS Universität since 2008. The organiser and contact person is Dr. Marcus Kreikebaum.