back
13.07.2023
In the 37th round of the WiWi-Talents high talent program, the 2 Real Estate students Lara Fornalik and Juliana Jakubiec have made it among the most talented students out of more than 145 applicants.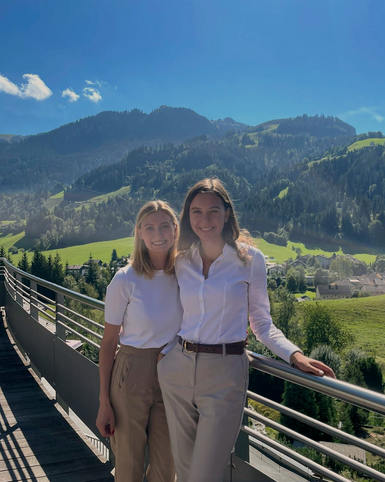 In the interview, Lara and Juliana tell us, among other things, how studying at EBS has influenced them and what plans they have for the future.

EBS: You were both recently voted WiWi Talents of the year 2023. Congratulations! What does an award like this mean to you?
Lara Fornalik: Thank you very much! Being named WiWi Talent of the Year 2023 means an incredible amount to me. It is a great honour and makes me very proud that my achievements and my commitment to economics have been recognised. This award motivates me to continue on my chosen path and to do everything I can to further improve my skills. It gives me the opportunity to network with talented people in the industry and benefit from their knowledge and experience. It is an inspiring opportunity to expand my own network and discover new perspectives. I am grateful for this chance and will make the most of it to continue to grow, learn and contribute to the field of economics.
Juliana Jakubiec: As the end of my studies is in sight (I will have completed my Master's degree by this time next year), the WiWi Talent award is, above all, a confirmation to me that all the hours spent on disciplined learning, both at school and university, have been worthwhile. To be recognised as one of the country's young talents is the result of 20 years' hard work, ambition and consistency. I feel very honoured that my achievements up to now and my future career plans have been judged outstanding by an independent committee.
EBS: How do you think studying at EBS has influenced the career paths you are taking?
Lara Fornalik: Studying at EBS has significantly influenced my professional career in many ways. Looking back, I can say that I have grown both professionally and personally. The practice-oriented case studies and projects have provided me with excellent preparation for my future career. Especially the intensive teamwork has shown me how important it is to work together to find solutions and to consider different points of view. For me, teamwork today means not only joining forces but also making the most of diversity to reach creative and ideal results.
Meeting with renowned personalities from the industry during my studies has broadened my knowledge and inspired me. It was particularly impressive that they not only shared professional content but also personal experience and insights. These experiences have positively impacted my professional career and have enabled me to go out into the professional world with bolstered self-confidence and an extensive repertoire of theoretical and practical knowledge.
Juliana Jakubiec: Studying at EBS has broadened my personal horizons immensely. Due to the very international environment at the university, I made many new friends, which in turn enabled me to see the world in a completely different light. I am particularly interested in starting my career abroad, so that I can benefit from getting to know different cultures and business centres. I am looking forward even more to my semester abroad. Also, numerous case studies and group work have helped to improve my communication and teamwork skills.
EBS: How do you see your future career path after graduating from EBS?
Lara Formalik: After graduating from EBS, I am aiming for a career in real estate. My goal is to work as a trainee in an international company and to further develop my skills. I would like to specialise in the field of sustainable project development and support companies in making environmentally friendly decisions and implementing sustainable projects. I want to make a positive impact on people and the industry itself by developing innovative solutions and driving environmental change.
Besides aiming to make a valuable contribution to the real estate sector, I also want to advance my personal development. My ultimate aim is to take on leadership positions and responsibility for teams and real estate projects. By continuing to develop and building a strong network, I want to maximise my impact. I am confident that studying at EBS has provided me with all I require to be successful in my future career.
Juliana Jakubiec: My clear goal is to make a career for myself in the real estate business. At EBS I learned how important it is to gain experience abroad and how much you further your development by leaving the oft-cited "comfort zone". That is why I would like to work for several years abroad after graduating. Preferably in South Korea, the US, Switzerland or also Dubai. In these countries, I see an opportunity for me to develop both personally and professionally. In the long term, I plan to return to my home country Poland to apply the knowledge and experience I have gained in the real estate market there.
EBS: Thank you very much for the interview!