back
The ideal property for your real estate studies is located in Oestrich-Winkel
Master in Real Estate
Do your master's in one of the most important and sustainably booming sectors. Excellent education and a strong personality are the key to success in this dynamic environment. At EBS, we are building on that.
Application
RICS akkreditiert
opt. stay abroad
4 semester | 2 semester
Full-time
120 ECTS | 60 ECTS
33,780 € total | 27,830 € total
Fall Term
English
Our pledge
This makes the Master in Real Estate special
Build, sell, lease, fund, manage. The real estate industry is not only multifaceted, but also one of the key future markets in which you can make an enormous difference. In this fast and complex market, especially people with strong personalities have the chance to make that difference.
---
The gateway to success: Challenge-based learning.
Throughout your study programme, the EBS teaching concept of challenge-based learning provides insights into your practical future. Learn from and with the big names of the real estate industry. You understand the challenges facing CEOs and learn how to find successful solutions. Meet companies such as Momeni, Art Invest or Commerz Rreal on our field trips. In Real Business Challenges, you prepare presentations to deliver to the board of managers. In this way, you gain an understanding of the challenges of corporate governance.
Knowledge has no value without values.
EBS is firmly convinced that, in future, leaders can only make a difference in the world if they also have a strong personality. We teach our students courage, responsibility, consideration, and risk-taking with our coaching and the leadership hub. Thus promoting a "can-do" attitude.
The three EBS building blocks for your career.
Leading yourself: an accompanying, individual coaching programme supports your personal development.
Leading teams: work in international teams and learn to communicate, discuss and convince in a winning way.
Leading organisations: grow with practical projects in the real estate sector.
---
Contact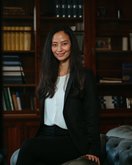 Harshita Anindya Werneke
Student Recruitment Manager
Perspectives
The key to a successful future
Make a tangible difference in one of the most exciting business sectors with the Master in Real Estate. Whether as a real estate investor, real estate financier, real estate surveyor, real estate analyst, project developer, fund manager, real estate manager, corporate real estate manager, public sector real estate manager, private real estate manager, real estate investment banker, infrastructure manager, housing policy executive or renewable energy expert - the Master in Real Estate prepares you in the best possible way for your career.
Strong corporate partners
More than 200 corporate partners support and accompany the path of students at EBS University. Among them are many well-known Dax corporations and corporate law firms. With the help of our partners, we combine theory and practice in an ideal way. Our Career Service Center also helps you to establish valuable contacts in the business world.
For us as a company, EBS graduates are therefore always preferred candidates who fit our corporate culture very well, both professionally and personally.
We experience EBS as an institution that is characterized on the one hand by dedicated teaching staff and on the other hand by students who want to make a difference. EBS graduates are very welcome at Aurelis.
Success stories
Made by EBS
Our claim to impart knowledge and values has proved successful.
This is underpinned by a strong network of over 10,000 alumni, many of whom work in top business positions. With more than 3,400 members, our Alumni Association is always there to support you during and after your studies. As you can see – we are a very big family.
Learn more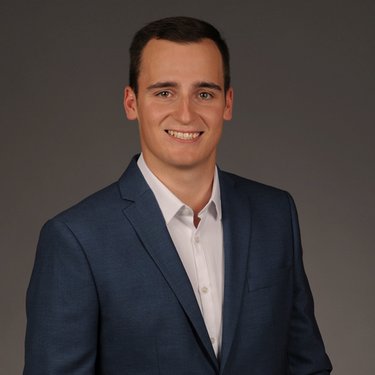 Lukas Feldhaus, Project Analyst at MOMENI Group (EBS Alumnus)
The Master's program at EBS University in Oestrich-Winkel in Real Estate Management prepared me excellently for professional life and is an excellent choice for building up in-depth theoretical knowledge and establishing contacts in the industry at an early stage.
Study programme structure
Master in Real Estate (M.Sc.)
The programme consists of four semesters and includes several cooperations with companies. You can organise the last two semesters according to your needs: either through a stay abroad at one of our approximately 200 partner universities (learn more in this video) or an internship. The last part of the programme is intended for your final thesis.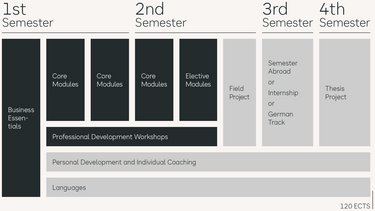 Study Content
This is what you learn in the Master in Real Estate
The Master in Real Estate programme is divided into different stages. At the beginning of the programme, we prepare you for your future research work and support you in your further development of your leadership skills. Building on this, you will deal with the essential issues of your field, consolidate newly acquired knowledge and grow as a leader.
---
Core modules:
Impact of ExegenousTrends and Real Estate Economics
Impact of Exongenous Trends in Real Estate
Urban & Real Estate Economics
Real Estate Valuation
Real Estate Finance
Methods of Real Estate Finance
Real Estate Cash Flow Modeling
Real Estate Legal & Fiscal Aspects
Real Estate Investment and Real Estate Project & Urban Development
Real Estate Investment
Real Estate Project & Urban Development
Applied Project & Urban Development
Real Estate Management
Real Estate Asset Management
Real Estate Risk & Portfolio Management
Real Estate Investment Vehicles
Field project: Cross-disciplinary project – leading change towards a sustainable built environment
Sustainable Buildings & Technologies
Applied RE project: Resilient Cities and Urban Transformation
Professional development workshops:
Python
Statistics
Data Analysis for Real Estate
Key Skills for a Modern Financial Professional
---
---
Every person is different. Numerous ways to do a Master's degree at EBS.
We have designed the EBS master programmes to be flexible, depending on your level of knowledge, skills and goals. Take the study path that best suits you and your circumstances:
Semester Abroad Track
The Semester Abroad Track comprises two semesters at EBS University, one semester at one of our 200 partner universities abroad and concludes with the thesis.
Practice Track
Have you already gained sufficient experience abroad and would now like to focus on practical experience? Then the Practice Track is perfect for you. This includes two semesters of study at EBS University, an intensive, long internship in the third semester and a final thesis.

German Track
An option developed explicitly for non-German-speaking students. In addition to the lectures, you will receive compulsory German lessons (Business and General) and will not go abroad in the third semester, but stay at EBS in Germany. This enables you to improve your prospects for a career in Germany. In the fourth semester, you complete your studies with your thesis.
Accelerated Track (prerequisite: Bachelor degree with 240 ECTS)
Accelerate your career. If you meet the relevant requirements and have already gained experience abroad, you can shorten the master programme to two semesters.
Dual Degree
You can obtain another international degree (MBA or Master) in addition to your EBS degree. Extend your study abroad at one of our partner universities by one semester and receive a double degree. In this way, you gain more expertise in a broader international context. And you increase your global market value.
---
---
Challenged Based Learning
Experience top-class expert lectures and a strong practical orientation. In addition to interactive lectures, there is an emphasis on case studies and real-world projects, so the degree program reflects cutting-edge management practices. In addition, close collaboration with industry leaders and practitioners is encouraged to equip students with the skills, competencies and mindsets required in today's global economy.
---
---
Many possibilities. One language.
At EBS University you will study at an international level and in an international environment. That's why all lectures and events are, of course, held in English.

It could hardly be more international.
International professors and lecturers, study groups with high diversity or an integrated stay abroad are without question the best preparation for a career in international top management.
---
---
Get to know the lecturers: EBS University is one of the leading business universities in Germany, but we are not satisfied with that: our professors aim to make the Faculty of Business Administration, as a management-focused business school, a leader in Europe. In the Master's program, professors with many years of practical experience as well as internationally renowned researchers teach. They all work together to shape leaders for the future.
Our faculty is supported by members of the adjunct faculty. You will be taught by experts who hold top positions in business or are active in leading companies.
Our lecturers
---
Accreditations
Studying with distinction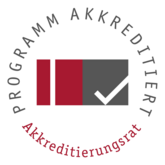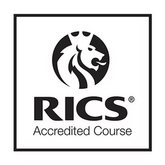 Characteristics and skills
Your profile to move into EBS University
Real estate economics is about more than square meters, numbers and tables. It's about people. In addition to mathematical talent, you must above all have empathy and enjoy working and negotiating with people and inspire others.
---
If you have the following qualities and skills, nothing stands in your way of successfully completing your Master studies:
Soft skills including communication, teamwork or negotiation skills
Sense of responsibility and the courage to find creative solutions to problems
Very good knowledge of English, as our courses are held in English.
---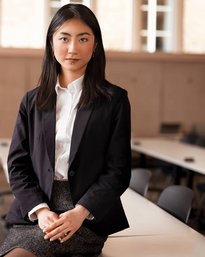 Selection process
Admission requirements and application
The master's programme at EBS University trains future managers who shape and drive the economy. This process begins by finding the right people for our Master in Real Estate study programme.
---
Start your application by submitting the following documents on our online application platform:
A bachelor's degree and transcripts in any field of study with at least 180 ECTS or an equivalent recognised qualification.
Candidates interested in the one-year (60 ECTS) Accelerated Track: bachelor's degree with at least 240 ECTS or an equivalent recognised qualification.
Candidates with 180 ECTS or 210 ECTS credits can be considered as long as they have a minimum of 12 or 6 months of postgraduate full-time working experience. This must be relevant to the intended master programme and needs to be completed by the time the programme starts at the latest.

English language certificate (TOEFL® iBT/MyBest TOEFL: minimum 95; IELTS: 7; Duolingo English Test: minimum 125 or an equivalent certificate).
Upon proof, if you have completed an undergraduate degree in English, are a native speaker, or have worked for at least 2 years in anEnglish-speaking country, no certificate is required.
All candidates interested in the Semester Abroad Track of the programme need to present a valid TOEFL® or IELTS score due to regulations pertaining to our partner universities.

A valid GMAT, GRE, Business Admissions Test (BAT), EBSgrad Test, or Common Admissions Test (CAT).
---
---
In the interview, we evaluate your motivation and social skills. The decision factors are performance and learning motivation, as well as communication skills and willingness to act in a socially responsible manner, in addition to your own initiative and drive.

After the selection interview, you can expect to hear back from us with a final decision within one week.
---
Tuition fees and funding
An investment in your future
We focus on the quality of teaching. EBS University stands for one of the best management education in real estate in the entire German-speaking world. You need to plan the following investment for the Master in Real Estate Management at EBS:
Total tuition fees: 33,780 EUR
Accelerated Track option:
Total tuition fees: 27,830 EUR
We try to enable all excellent applicants to study - regardless of their economic situation. Your performance, motivation and personality are decisive here. There is a wide range of options for financing a study programme. In many cases, it makes sense to combine various options. Take a look at the possibilities of scholarships and student funding.
Student Financing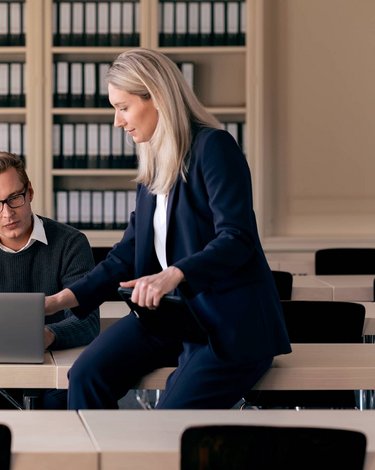 To the application
You have questions about the application process?
We will advise you personally on all questions relating to the study programme, student finance and studying at EBS in general.
Advisory issues
Apply now