back
Jan-Christian Dreesen visits EBS Law School
25.11.2022
Jan-Christian Dreesen, Executive Vice Chairman of the Bayern Munich AG, gives a lecture at our Law School on leadership in dynamic environments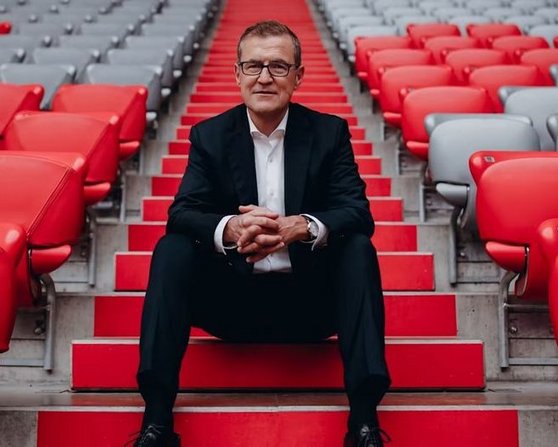 Corona, flexible working time models, increasing internationalisation, volatile markets, and participatory leadership are just some of the areas where classic hierarchies and central decision-making bodies reach their limits. Jan-Christian Dreesen, who has been on the executive board of FC Bayern since February 2013 and has been the Executive Vice Chairman since February 2014, visited EBS Law School on November 16th, 2022, to provide our Master in Business for Legal Professionals students with a better understanding of leadership practice.
As a guest speaker of Prof. Dr. Ralph Tunder's leadership lecture series, he focused on how leadership in practice changed over the past 10 years. Mr. Dreesen highlighted how the pandemic, new market trends, and increasing internationalisation were affecting FC Bayern's club activities and which challenges management has been facing.
Mr. Dreesen described how FC Bayern navigated through the corona pandemic, remained strong in revenue despite lost ticket sales, entered quite complex negotiations with its advertising partners, but also established home office – with largely different governmental anti-corona initiatives worldwide, depending on the country. He showed that many outcomes of pandemic-related decisions are there to stay: greater desire with regard to home office from employees, stadium fans who discover alternative forms of entertainment, digital push, etc.
The students were not only provided with an understanding of how management dealt with these changes, but also of the market trends that managers are facing. From FC Bayern's point of view, these are, for example, the increasing competition for the attention of fans, the change in how sports and football are consumed, in which emphasis is placed on highlights, the change in fan culture, especially internationally, away from identification with the club towards identification with the player (person) and the associated decline in club loyalty technological advances and connectivity, but also the change in employee expectations. While it used to be an exception to change jobs every 3 to 4 years, it is now becoming the norm.
FC Bayern is pursuing a global strategy. This also means continuously adapting to other cultures, accepting and respecting them, but also learning how value is created and fan bases are built and nurtured in other countries, far from Europe.
Mr. Dreesen emphasised the importance of trusting and encouraging one's employees, as it is the only way that can lead to employees developing trust in management. An open, constructive error culture and the promotion of exchange based on honesty are of great importance. He put emphasis on the coaching leadership style, where employees are empowered to find their own solutions to challenges. Reliability and predictability are essential in dynamic industries. Keeping these points on mind, in the long run, teams will be formed that are able to cope with rapid and frequent changes, develop continuously and, thus, contribute to company success.
We thank Jan-Christian Dreesen for his guest lecture.