back
14.04.2023
Congratulations to Hanjo Hamann, who will soon join the Global Young Academy (GYA), an independent scientific academy hosted by the world's oldest Academy of Sciences "Leopoldina".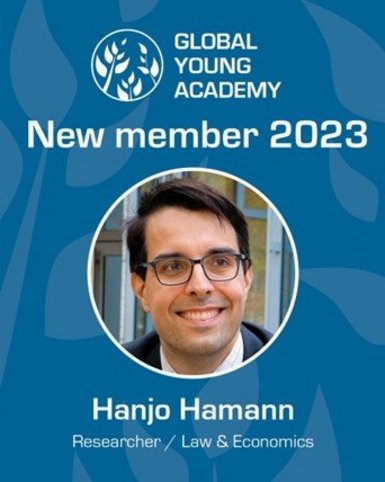 The GYA's new member cohort with Hanjo Hamann will be formally inducted in June 2023 at the GYA General Meeting in Kigali, Ruanda.
GYA comprises of 200 outstanding early- to mid-career researchers from six continents. They are selected from across disciplines based on their academic excellence and commitment to engaging with society. GYA's vision is "science for all, science for the future", it aims to elevate the voice of young scientists in evidence-informed and inclusive global, regional and national decision making.
He is the first German legal scholar selected by the Academy. In his research on contract law, corporate law, and intellectual property, Hanjo Hamann frequently employs empirical methods and interdisciplinary perspectives from, for example, corpus linguistics, social psychology, and behavioral economics. He is committed to open research practices and contributes to Open Data initiatives to advance Open Access to research and knowledge.
Hanjo, all the best for you and your new experience!