back
EBS Alumna Kim Fe Cramer started a professorship at London School of Economics
18.07.2022
EBS alumna Kim Fe Cramer is going through a high-profile and inspiring career path and gives an example of the academic career opportunities open to you after graduation.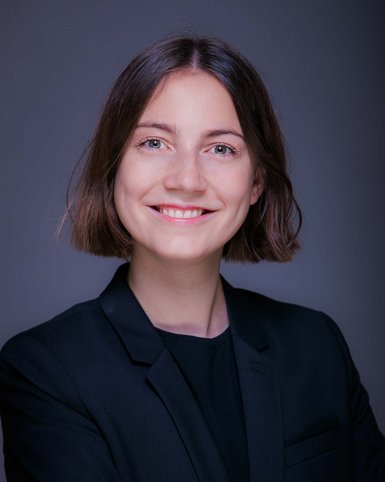 She completed a Ph.D. program at Columbia University in New York after her bachelor's studies at EBS and is now a professor herself at the LSE in London! We interviewed her and talked about how she got to where she is today and the role EBS has played in her career.
Did you already have your current career path in mind during your bachelor's studies at EBS?
I realized that an academic career would be a great fit while writing my bachelor thesis. From there I took it step by step. Initially, I took a gap year to explore the world and prepare my Ph.D. applications. I was in Nepal descending from a mountain when I received the confirmation from Columbia and was beyond thrilled. Now I am very happy that my research finds a new home at LSE.
How did EBS help you with your career path? What role did EBS play?
The EBS faculty placed trust in me throughout my studies, either by allowing me to help teach classes or by providing feedback on my thesis. The enthusiasm of Professor Raša Karapandža for teaching inspired me, and I am very thankful for his support during the application process. I aspire to also be such a good role model and support for my future students.
What is your happiest memory when you reflect on your time here in the Rheingau?
I loved being in nature, so walking along the Rhine was a highlight. My grandparents live nearby the region, so me and my friends could enjoy the meals they would cook for us.
What are you currently researching?
I study the role of the financial sector in developing countries. In my job market paper, I use a policy of the Reserve Bank in India to show that bank presence can improve health of households. In over half of developing countries, banks offer health insurance products to households. Additionally, they provide credit to hospitals. Both can be important drivers for improvements in health.
What is your guiding principle?
I generally aspire to conduct research that is both exciting and helps us understand how to improve the world for low-income households. We are facing large global challenges, and I want to contribute my share so that we can make well-informed political decisions as societies.
What do you do in your free time for relaxation?
In the morning, I love to do yoga and meditation. In the afternoons, I am a big fan of walking with my friends through cities and exploring bookshops.
What are you looking forward to most about your new position at the LSE and what are you excited about?
I am excited to get to know my new colleagues better and exchange thoughts. I am also looking forward to teaching my students about finance, especially the intersection of finance and development.
Where do you see yourself in the future?
I would be tremendously happy if I could just continue making people excited about the issues I care about.
What advice/tip would you like to pass on to our students who aspire to a high-profile academic career like you?
It is important to follow your intuition. If you want to do research in a topic that is not very well established yet, keep exploring it. As in other fields, keep talking to people in the profession and ask them to share their experiences.