back
EBS alumna Dina Reit was chosen by Focus as one of the 100 Women of the Year 2022
12.01.2023
Dina Reit is Managing Director at the machine manufacturer SK LASER. From 2017 to 2019, she studied Management in the Master program at EBS University.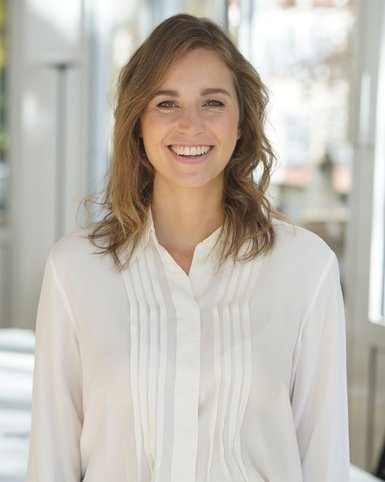 EBS: Focus recently named you one of the 100 women of 2022. Congratulations! What does an award like this mean to you?
Dina Reit: Many thanks! The award came as a complete surprise to me and I am delighted. I think it's fantastic that topics such as family businesses, succession and women in mechanical engineering are getting more attention.
EBS: After completing your Master's degree at EBS in 2019, you joined your father's family business "SK Laser". Was this a conscious decision (since childhood) and what attracted you most about the family business?
Dina Reit: As a child, I definitely didn't want to join the family business. I saw how my father founded the company in 2005 and how extremely difficult the first two years were. For a while, I wanted to become a museum curator, which is why I did a dual Bachelor's degree in economics, art history and philosophy. Then I worked in the museum for a while and realised that it wasn't the right job for me. I realised that I greatly appreciate the freedom of entrepreneurship and that I would like to do that in future. Having experienced the hardship of the start-up period, I knew what an incredible opportunity it was to be able to take over a family business. Of course, it's also a huge responsibility and a long way to go to make the company "mine", but it's worth it to me.
EBS: You took over from your father as managing director in 2022. What values do you want to convey to your employees in terms of leadership?
Dina Reit: My father is still in the company and is also still the managing director. He now works part-time (50%), which means that I take overall responsibility and he manages international sales and assists me in an advisory capacity. It is ok to have a different leadership style than the former MD. Every person and every generation is different. In the beginning, I put myself under pressure to be able to do everything immediately and do it just like my father. Then I understood that it is ok not to know everything, that starting in a company goes hand in hand with a learning phase and that in leadership you should be true to yourself.
EBS: Your company "SK Laser" develops laser systems for industry. The proportion of women in the field of mechanical engineering is still very low. How can we inspire women to be more enthusiastic about professions in this sector in the future and encourage them to take the plunge?
Dina Reit: It's really crass, in Germany only 17% of those working in the mechanical engineering sector are women. This is far below the business average. The situation is even worse at executive level, meaning that I am regularly the only woman at industry meetings. It's actually a shame, because high-class machines are pretty cool and the market is good. My goal is to get more women interested in mechanical engineering. For that reason, I like to show what life is like as a woman in mechanical engineering and I do my best to make my team as diverse as possible.
EBS: On social media platforms such as LinkedIn and Instagram, you are very active in the area of personal branding, you present yourself as the face of the company. To what extent does your strong social media presence impact the company?
Dina Reit: It has a distinct effect for SK LASER in employee branding, lead generation and brand building. Articles about us in the Tagesschau, Business Insider and WirtschaftsWoche create high visibility and have a positive impact on the company.
EBS: The current economic situation, war and crisis issues are also impacting the metal industry. How do you as a leader react to this and what strategy are you currently employing?
Dina Reit: Since I joined the company in 2019, I have been through various crises: the automotive crisis, COVID, war and recession make business difficult. We have to tackle every situation as it comes, and in particular overcome increasing supply bottleneck issues. It is worth sourcing regionally and stockpiling accordingly.
EBS: In three years you have developed from trainee to CEO. What personal and professional goals are you pursuing with "SK Laser"?
Dina Reit: Such a professional advancement sounds extraordinary, but of course it is due to the fact that this is a family business. My goal is for SK LASER to grow and become THE address for laser machines. I would also like to run the company sustainably so that it will continue after me.
EBS: You took a Master in Management degree at EBS University from 2017 to 2019. What are your best memories of your studies at EBS?
Dina Reit: The beautiful campus and the many nice people (fellow students and faculty) have stayed in my mind. Also a very exceptional, very practice-oriented leadership course with Prof. Myriam Bechtoldt. We re-enacted leadership situations and learned rhetoric in prepared discussions. I still enjoy returning to EBS for various events.
EBS: How did your degree at EBS prepare you for your current role as CEO with leadership responsibilities?
Dina Reit: The soft skill classes were particularly valuable. I recommend participating in the communication courses, coaching and other classes. I find soft skills invaluable in my everyday life, as most of my work is about communication and negotiation.
EBS: What have been the most important lessons learned and challenges in your career so far?
Dina Reit: 1. Succession takes time / 2. Succession means work for both Senior and Junior / 3. Family is most important and the basis of a good family business
About Dina Reit:
Dina Reit is Managing Director of the machine manufacturer SK LASER. She has taken over her father's company and is leading it into the second generation. Her goal is innovative and diverse mechanical engineering. She took a dual degree (economics, art history and philosophy) in Frankfurt and London as well as a Master in Management at EBS and EM Lyon. Dina Reit has been with SK LASER since 2019 and during this time she has already been able to implement several innovation projects such as digital sales and further development of the standard lasers. Through personal branding, she has become an influential voice in engineering, reporting on laser and succession issues.
SK LASER is a mechanical engineering company in Wiesbaden. The company produces standard and custom-built laser machines for surface processing. The company was founded in 2005 by Christoph Kollbach. SK LASER's customers come from industry and use the lasers for product identification (labelling), for example.
After work, she likes to go to the Alps for climbing, skiing and hiking. Time spent outdoors and with friends is the perfect balance between work and leisure.