back
CHE Ranking of Master's programmes: EBS Business School achieves excellent results
20.11.2023
In the university ranking published today by the Centre for Higher Education Development (CHE), EBS Business School impresses with its excellent, practice-oriented and scientifically in-depth teaching as well as close supervision by lecturers.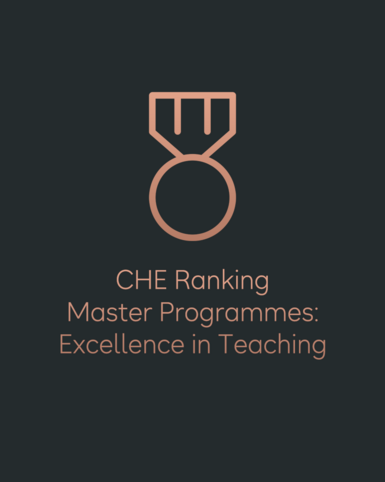 The CHE ranking covers Master's programmes in Business Administration, Economics, Business Administration, Business Information Systems and Industrial Engineering.
EBS Business School's Master's programmes Master in Finance, Master in Strategy and International Management, Master in Business Analytics, Master in Marketing, Master in Real Estate, Master in Management and Master in Business scored above average in all categories (98% very good).
Particularly good scores were achieved in the areas of individual support and close contact and support from lecturers (average 4.8 stars / average of all universities 4.3). Accessibility, support and the ability to take criticism are just some of the areas in which EBS was able to impress (average 4.9 stars / average of all universities 4.5).
Teaching at EBS is perceived as very practical. The quality and number of practice-oriented courses are rated particularly highly (average 4.7 stars / average of all universities 4.0). Lecturers attach great importance to incorporating the latest research findings into their teaching (average 4.9 stars / average 4.4 for all universities).
Another category in which EBS scores very well is the organisation of studies, with appropriate numbers of participants and short waiting times for courses (average score 4.8 / average score of all universities 4.5).
In addition, EBS offers a seamless transition for students who have already successfully completed the Bachelor's programme at EBS. The communication of admission requirements, support with formal procedures and recognition of academic achievements were also rated as very good (mean score 4.9 / mean score of all universities 4.4).
Christian Landau, Dean of the Business School, said: "I am delighted with the excellent results. They are great feedback for the DNA of EBS Business School: academic education geared to the needs of business practice, internationality, individual professional and personal development of students, excellent support by lecturers and administrative team".
The CHE University Ranking is the most comprehensive and detailed comparison of universities in the German-speaking world. It includes the assessments of more than 120,000 students on the study conditions at their university and facts on studies, teaching, facilities and research in around 40 subjects at more than 300 universities.
The CHE University Ranking is now available digitally on Hey Studium.