back
30.03.2023
Together with the strategy consultancy "Struktur Management Partner" (SMP), EBS Universität is publishing a study on digitalisation in German mechanical engineering.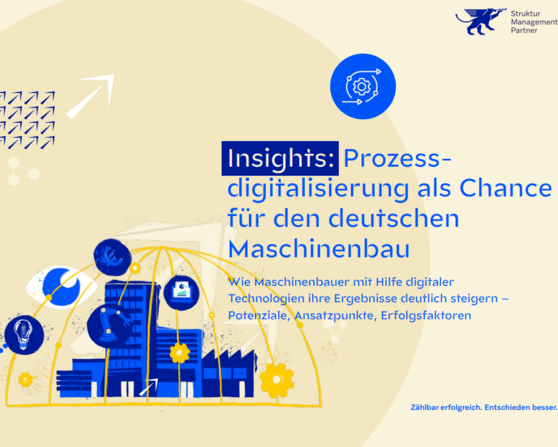 How can mechanical engineers increase their results with the help of digital technologies? This is the central question of the new study by Struktur Management Partner, in which EBS researchers Prof. Katrin Burmeister-Lamp and Prof. Matthias Waldkirch participated.
Making processes faster, more efficient, safer, more stable, and less prone to errors - therein lie the great opportunities for process digitisation. However, the considerable potential of process digitisation has only been exploited to a limited extent in many companies in the mechanical engineering sector - one of the most innovative industries, which, however, needs to catch up in digitisation. A survey of German mechanical engineering companies of all sizes revealed 136 different approaches to process digitisation in use.
Central questions that companies must ask themselves are:
1. Is processing digitisation worthwhile for our company, and if so, where is the most significant potential?
2. How can we find out with manageable effort whether something like this works in our company?
3. How can we exploit the full potential of our company?
Six success factors for process digitalisation have emerged from the study:
1. Management as a strategic driver focused on overcoming employee concerns and resistance.
2. Customer-centric approach to increase benefits and added value for internal or external customers.
3. End-to-end thinking to not only digitise individual tasks or (sub-) processes but also efficiently exploit process digitization's full potential.
4. Integration of technologies, e.g., text recognition, AI, RPA, and chatbots.
5. Democratisation of development by providing appropriate resources.
6. Scaling with a well-thought-out operating model, using sensible organisational structures and reliable external partners.
The study can be downloaded through the link below.