Martin Böhm
Rector of EBS University
Professor for marketing and sales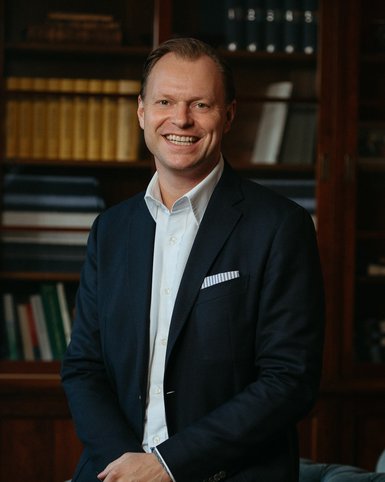 Market Research
Entrepreneurship
Marketing Strategy
Business Strategy
Executive Education
Martin Böhm has been Rector and Professor of Marketing at EBS Universität in Germany since September 2021. Previously served as the Dean, the Dean of Programs, the Associate Dean of Undergraduate Studies and the Associate Dean of the Master in Management at IE Business School.

Prof. Böhm's intellectual interests center on Customer Management and his research provides managerial implications on how to build profitable and long-lasting customer relationships. His primary concern is to quantify the impact of various customer management activities on a customer's lifetime value – the net present value of the stream of future profits expected over a customer's lifetime. At the same time, Martin Böhm develops analytical models to estimate or approximate a customer's lifetime value. As a consultant he works primarily with firms in the financial services industry to provide them with a roadmap for growth.
---
GENSLER, S., VERHOEF, P. C., BÖHM, M. (2012). Understanding consumers' multichannel choices across the different stages of the buying process. Marketing Letters, 23 (4), 987-1003. doi:10.1007/s11002-012-9199-9.
BOEHM, M. (2008). Determining the impact of internet channel use on a customer's lifetime. Journal of Interactive Marketing, 22 (3), 2-22. doi:10.1002/dir.20114.
GENSLER, S., SKIERA, B., BÖHM, M. (2007). Einfluss der Nutzung des Online-Bankings auf das Produktnutzungsverhalten und die Profitabilität von Bankkunden. Journal of Business Economics, 77 (6), 675-695. doi:10.1007/s11573-007-0048-x.
GENSLER, S., SKIERA, B., BÖHM, M. (2005). Einsatzmöglichkeiten der Matching Methode zur Berücksichtigung von Selbstselektion. Journal für Betriebswirtschaft (formerly: Der Österreichische Betriebswirt), 55 (1), 37-62. doi:10.1007/s11301-005-0010-3.
---
---
GENSLER, S., BÖHM, M. (2006). Kanalwahlverhalten von Kunden in einem Multikanalumfeld. Thexis (4), 31-36.
---
---
BÖHM, M. (2006). Customer Channel Migration. Universitätsbibliothek Johann Christian Senckenberg.
---
---
BÖHM, M. (2013). Strategy of Career Services: Crafting a Student Employability Strategy. EFMD Careers Conference.
BÖHM, M. (2013). Internationalization, Joint Programs & Dual Degrees. AACSB Annual Conference, Copenhagen, Denmark.
BÖHM, M. (2013). Being Different to be Irreplaceable. TEDx Conference, Madrid, Spain.
BÖHM, M. (2013). The Power of Blended Learning. Learning Technologies Executive Knowledge Exchange, London, Great Britain.
BÖHM, M. (2013). Managing a Consumer's Price Perception. Marketing & Innovation Forum, Munich, Germany.
---
---
BÖHM, M. (2010). Alliance Airlines vs. European Wings: Playing the Pricing Game, Multimedia Teaching Material. Online Simulation.
BÖHM, M. (2009). Customer Lifetime Value. Multimedia Teaching Note.
---
In these study programmes we meet