back
Hesse's best law graduate is EBS Student
09.12.2020
Great joy in the law faculty at EBS Universität: Since the first graduate class of 2016 EBS Law School has been training the best law graduates in Hesse.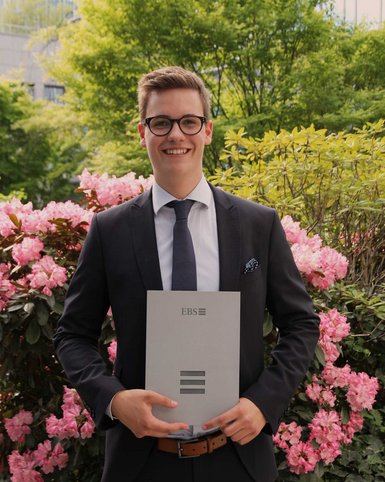 In 2019 EBS student Tobias Törk passed the First Law Examination with a grade of 13.58 points and took first place among the 720 successful graduates. He continues the series as the best graduate in Hesse from EBS Universität for the fourth year in a row.
Although the traditional annual reception to honor the best graduates had to be canceled due to the pandemic situation, Hesse's Minister of Justice, Eva Kühne-Hörmann, congratulated in a personal video greeting. "I was delighted to learn that I am Hessen's best graduate. Fortunately, the fact that I spent a lot of time at my desk preparing for the exams paid off - but the last bit of luck and the right form on the day are of course also part of it," Tobias Törk was pleased to say. Prof. Dr. Ulrich Segna, Dean of EBS Law School, is also delighted: "A degree with over 13 points is an extraordinary result. The entire EBS Universität congratulates Mr. Törk on his success. Teaching and personal support are top priorities at our faculty. I am extremely pleased that our efforts are reflected in such good exam results. The fact that EBS Law School once again has the best graduates in Hesse in 2019 also makes us very proud."
Tobias Törk already completed his high school diploma at the age of 16 and now at 21 he was the youngest candidate for the first legal examination. At the same time, he successfully completed his master's degree in business administration. Currently, the enthusiastic crossfit athlete is doing his doctorate in the field of autonomous vehicles at the chair of Prof. Dr. Dr. Martin Will. In addition, he works as a legal assistant in the internationally active business law firm Allen & Overy LLP.
A total of 720 candidates took the First Legal Examination in 2019. Only 42 of them (corresponding to 5.83 percent) passed with the grade "good". Since all candidates throughout Germany write exams centrally administered by the Judicial Examination Office, the performance of graduates from the various universities can be directly compared.