back
First prize of the 18th EBS Best Paper Award goes to an international research team
16.11.2023
The award is given to authors of articles with outstanding economic findings in the areas of innovation, entrepreneurship and change. The award ceremony took place on 14 November 2023.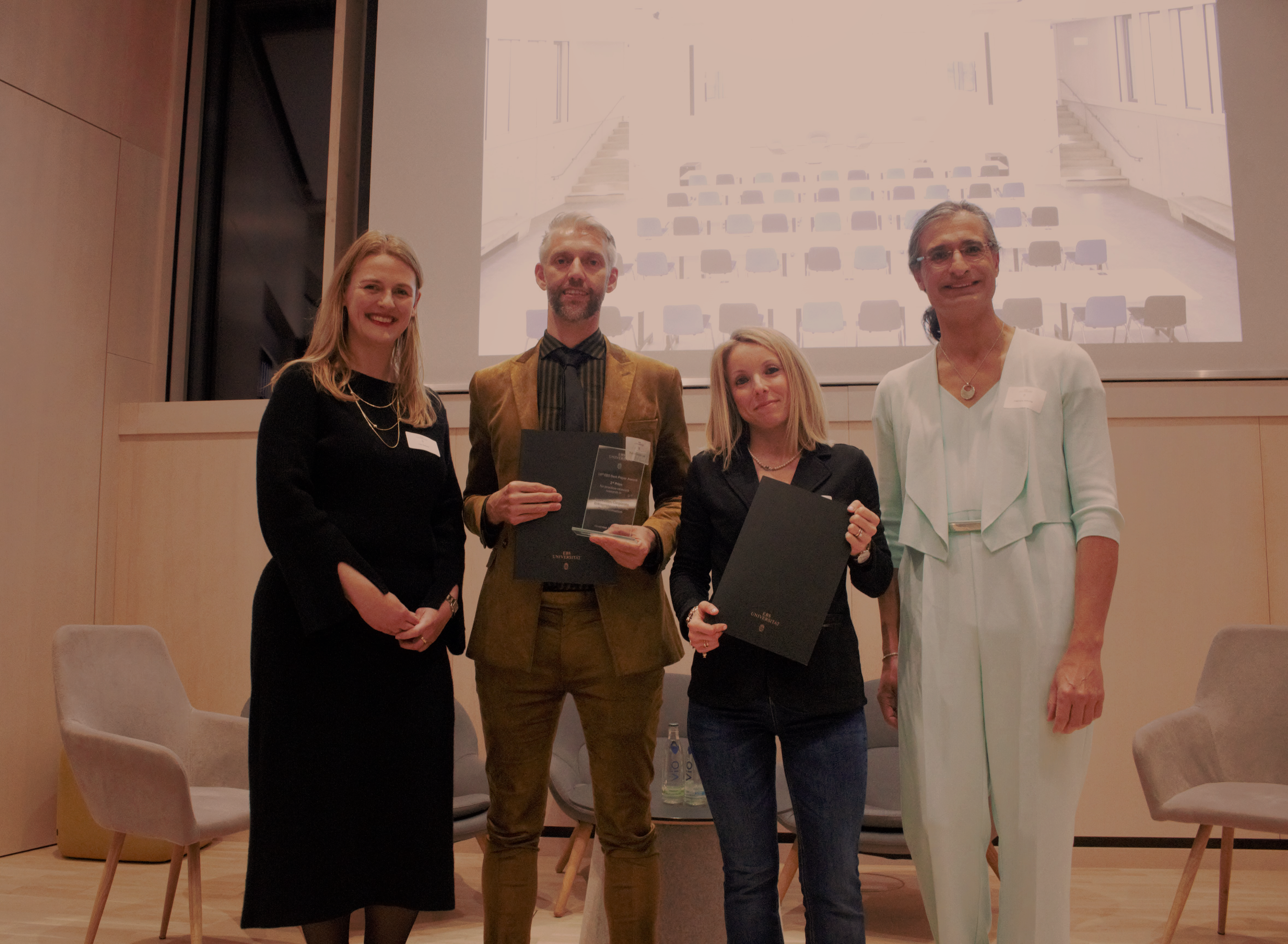 Elisa Villani (University of Bologna), Christian Linder (SKEMA Business School), Alfredo de Massis (Free University of Bozen-Bolzano) and Kimberly A. Eddleston (Northeastern University) received the first prize of the EBS Best Paper Award for their paper "Employee Incentives and Family Firm Innovation: A Configurational Approach". Their paper was published in the Journal of Management.
In their paper, the winners addressed the complicated relationship between employee incentives and innovation in family firms. They used a configurative approach. "The depth of their work rightly earned the team the first prize," says Prof Dr Katrin Burmeister-Lamp, Professor of Entrepreneurship at EBS Business School. "The winning paper is an example of the high standards and innovative thinking that we value in our academic community."
Economists Pontus Braunerhjeelm and Emma Lappi also made it to the final of the Best Paper Awards with their paper "Employees' entrepreneurial human capital and firm performance". The paper shows the positive impact of employees' prior entrepreneurial experience on firm performance and defines a new measure of human capital. Economists Sasan Mansouri and Paul P. Momtaz were also finalists. In their paper "Financing Sustainable Entrepreneurship: ESG measurement, valuation, and performance", they analysed whether and to what extent sustainable start-ups pay off for companies and investors.
Award for academic excellence with practical relevance
Every year, EBS Business School promotes the exchange between business and science with the Best Paper Award. The award ceremony on the EBS campus in Oestrich-Winkel is an annual highlight. "Here, companies and academics can network directly and exchange ideas on practical topics," says EBS President Günther H. Oettinger. "This year's event was once again a great success and the atmosphere was characterised by intellectual curiosity and lively discussions". The teams in the final round first presented highlights of their research and publications to the audience and the jury of industry experts and academics. This was followed by a panel discussion on the topic of innovation "Setting the right signals - how companies find and optimally use talent for innovation".
Each summer, the EBS Best Paper Award calls for the submission of academic papers with a high practical relevance in the areas of innovation, corporate entrepreneurship and transformation, and awards the three best publications in the autumn. The EBS Best Paper Award 2023 has been made possible by Accenture. The first prize is 1,500 euros, the second prize 1,250 euros and the third prize 750 euros.