back
EBS Universität among the world's top 50 in QS World University Ranking 2024
04.10.2023
EBS Business School's Master in Finance and Master in Management programmes have been ranked among the world's top 50 in the QS Graduate Management Education (GME) Ranking 2024.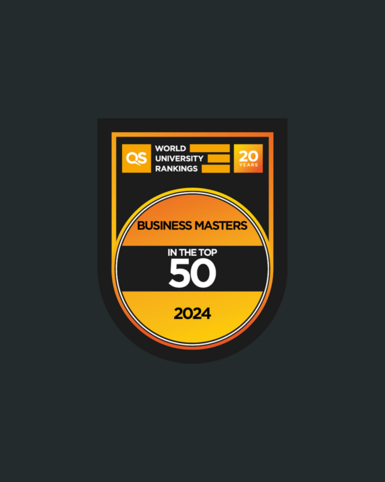 In this year's QS ranking, the EBS Master in Management is ranked 41st out of a total of 201 master programmes and the Master in Finance is ranked 47th out of 204 master programmes.
"EBS Business School has always been committed to educating the next generation of global leaders in its Master in Management and Master in Finance programmes. The very good placements in these rankings in the two core areas of business studies underline our excellence and the relevance of our education to business practice. The external confirmation of the excellence of our students, faculty and administration fills us with pride and motivates us to continue to strive for excellence in these core areas," said Prof. Dr. Christian Landau, Dean of EBS Business School.
Both Master's programmes have performed excellent in various categories of the ranking and stand out in particular in the area of "Alumni Outcome". This reflects the fact that students at EBS not only receive a first-class education, but are also provided with the skills and knowledge they need for successful professional development and making an impact.
The QS World University Ranking has been examining the development of universities and colleges worldwide for almost 20 years and provides an overview of their qualifications. This year's ranking includes 1,500 universities in 104 countries. The results are based on the analysis of 17.5 million academic publications and the expert opinions of more than 240,000 university teachers and employers.
We would like to take this opportunity to thank Rasa Karapandza and Christian Landau for their tireless efforts, as well as the entire faculty of EBS Business School.
.