back
EBS students support HelpingHands Eltville with over 14,500 euros
07.03.2023
Photo: Symbolic handover of a cheque worth 14,500 euros to Peter Fries (centre), representative of HelpingHands Eltville, by Dr Dorothée Hofer, Managing Director of EBS University, and Moritz Elenz, Student Representative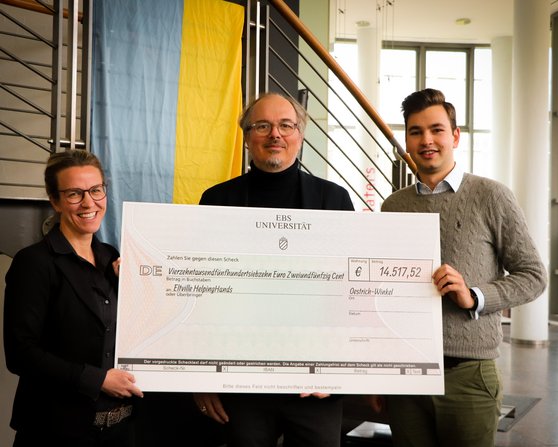 EBS Universität (EBS) today symbolically handed over a cheque for over 14,500 euros to HelpingHands Eltville. This sum is intended to support the important work of the association, which is committed to helping people in Ukraine.
The amount comes from the donated surplus of the students' semester ticket. Due to the 9-euro ticket, students could claim money back, but the majority of students agreed to the announced donation. Student speaker Moritz Elenz emphasised the importance of the commitment to society: "As students, we want to actively contribute to society and take responsibility. HelpingHands Eltville offers us the opportunity to do just that, and we are proud to be able to play a small part in making the world a better place with our contribution."
EBS Managing Director Dr Dorothée Hofer also underlined the importance of the university's social commitment during the handover: "As an educational institution, we have a social responsibility. I am very pleased that we can support HelpingHands Eltville, a partner that is very committed to providing humanitarian aid to the people in Ukraine."
Peter Fries, EBS alumnus and HelpingHands Eltville representative, expressed his heartfelt thanks for the generous donation: "We are very grateful for the support of EBS and its students. With this amount we can help many people in Ukraine who urgently need support."
EBS and HelpingHands Eltville have a bond of partnership. As early as 2021, shortly after the outbreak of the war in Ukraine, EBS donated 2,000 euros in kind to support the people in Ukraine. In return, the employees waived their annual gift. Today's donation is another step in this successful cooperation.
In addition, the merchandise items, now outdated after the brand relaunch, were given to staff and students at a low price. This money was also donated: Around 800 euros went to Kinderschutzbund Rheingau e.V.