Become better. Make a difference.
Executive MBA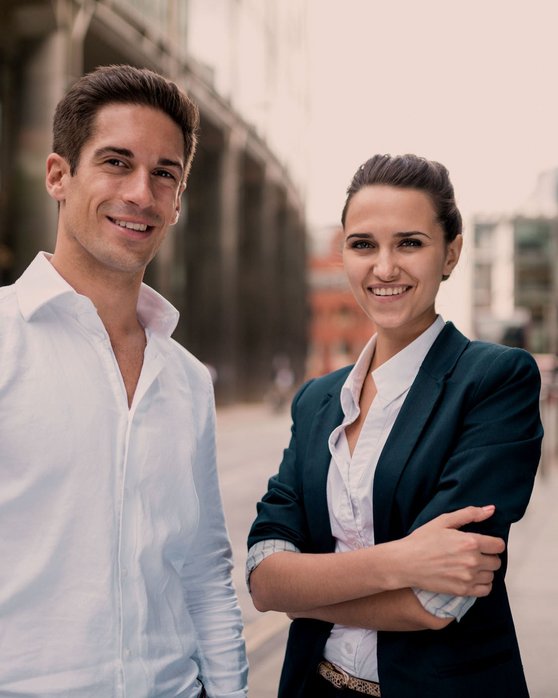 The EBS Executive MBA offers you an ideal part-time opportunity to prepare for your future career. Benefit from the teaching experience of two renowned universities: EBS University and Durham University.
Application
18 months
Part-time
60 ECTS
40,000 € total
incl. stay abroad
Fall Term
English
EBS University & Durham University
Our pledge
Executive MBA. As the name implies.
The future needs new economic models and new leaders who place more value on values than on pure profits. The future needs people with the ability to think internationally, think outside the box, reflect and act strategically. Train to be a leader who makes a difference at two of the most renowned universities.
---
Over 200 partner companies accompany the EBS students along their career paths. The circle of EBS-affiliated partners ranges from small to medium-sized companies, international business law firms and renowned DAX corporations. The Executive MBA allows you to work with up to 3 industry giants, listen to presentations and develop an understanding of future challenges.
International and inspiring
The EBS Executive MBA, coupled with the study programme at Durham University, will give you a unique insight into how global markets function, understand how to manage transnational business relationships, broaden your expertise and further develop your international network.
During the study programme, you will work in international teams with students who, for their part, come from a background in global corporations and companies. This way, you grow together with a solid circle of like-minded people while working and studying.
Our diversity makes all the difference.
Typically, there are 6 to 10 different nationalities in each cohort - i.e. each working group.
The age range is from 34 to 50+. Your study partners come from a wide range of professional backgrounds: aerospace and aviation, automotive, banking and finance, chemical industry, consulting, electrical industry, energy and power generation, IT, law, logistics and transport, medicine, pharmaceutical industry, from the retail trade to NGOs. In addition, your fellow students have a broad academic background from social sciences, psychology and engineering to law and marketing.
We make studying an experience.
Experience a two-day offsite event in the English Lake District. There, together with your peers, you will develop attention, mindfulness and self-awareness techniques that will leave their mark. This is where relationships are made that last beyond your studies. In addition, as part of an exclusive cooperation, you have the opportunity to visit Silicon Valley for a week and attend lectures at the San Francisco School of Management.
A supportive network
Together with 200 partners from industry and business, you become part of the alumni network here. 10,000 graduates, over 3,400 of whom belong to the Alumni Association. Working together intensively for three semesters with the international team builds a network that lasts a lifetime.
---
Contact
Brian Gibbs
Programme Director
Perspectives
The step towards a successful future
After your MBA study programme there are many options open to you - from changing your business sector or function to advancing into new leadership roles. Many graduates of EBS University are now working as successful managers in executive positions.

Executive students who have gained professional experience in the legal, scientific or technical fields have the best prerequisites to further develop their careers with the Executive MBA. Or to start a new job. The world is your oyster.
EBS Executive School
Success stories
A successful network - our alumni.
Our claim to impart knowledge and values has proved successful. This is underpinned by a strong network of over 10,000 alumni, many of whom work in top business positions. And some of them had decided to take the part-time Executive MBA. Read why.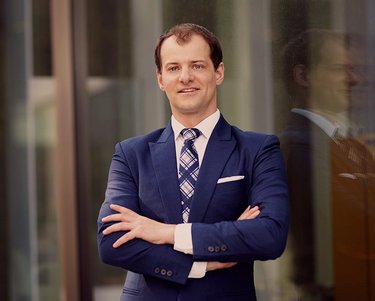 Jonathan Mudry (Graduation 2021)
The Executive MBA at EBS University and Durham University was the best way for me to complete my MBA in less than two years and benefit from the networking, extensive discussions and learning through the face-to-face lectures. I was also attracted by the opportunity to participate in a programme offered in two unique locations and countries.
Learn more
Study programme structure
Executive MBA, Part-time
The Executive MBA is studied part-time in three-day units over 15 months. Intensive engagement with content and fellow students is essential, which is why the study programme involves in-person learning.
Study content
This is what you learn during the EBS - Durham Executive MBA
The study programme is spread over three semesters. You will complete ten basic modules, three elective modules and the final strategic consulting project during this time. You start the strategic consulting project right at the beginning of your studies and work on it throughout your course. Two stays at our partner university in Durham are planned during your studies. One week at the beginning of the first semester, another at the beginning of the last semester. For even more international experience, we also offer a special elective module.
---
For even more international experience, we also offer a special elective module:
The New Venture Creation Elective Module is a one-week trip to San Francisco. Attend lectures at the San Francisco School of Management and start-ups in Silicon Valley, and learn from industry leaders who have successfully founded start-ups.

This study module enhances the international component of your studies with additional experience abroad. You will immerse yourself in another new business and the country's culture while studying a specific business topic. At the end of your studies, you will incorporate your newly gained skills and experience into your strategic business project and conclude this with a thesis.
---
---
The first residential week allows you to get acquainted with your fellow students, the study programme, the city of Durham and the Business School.

A large part of the time is dedicated to team building. This takes place as part of indoor and outdoor activities in the Lake District National Park. In the process, you will get to know your fellow students better, make valuable contacts and further develop your soft skills.

The second residential week focuses on the Boardroom Exercise module, a real-life management simulation that will keep you busy for the first week. The course relies on a high degree of interactivity and focuses on using your newly acquired skills and expertise.
---
---
Basic Module
In the basic modules, you will consolidate your economic expertise and develop your research skills. The first nine months of your Executive MBA programme consist of nine basic modules. Two of the basic modules will be completed during the residential weeks in Durham. Lectures are offered monthly over three days from Thursday to Saturday.
Marketing (during the first-year residential in Durham)
Economics for Global Business
Accounting
Finance
Strategic Management
Operations and Technology
Managing People • Qualitative and Quantitative Research Methods
Boardroom Exercise (during the second-year residential in Durham)
Sustainability and Ethics
Elective modules
From the second semester onwards, we offer you a variety of elective modules. These allow you to tailor the study content to your professional needs and goals.
Elective modules are offered either at EBS University or in Durham, with the option to study at another international location.
Advanced Finance for Business
Business Analytics
Entrepreneurial Management
Leading Change
Management Consultancy
Negotiation
New Venture Creation 3 (typically offered in San Francisco)
Project Management
Technology Forecasting and Innovation Analytics
15,000-word paper on a business topic of relevance to the student
---
---
In addition to exceptional knowledge transfer, the programme aims to promote leadership skills, i.e. your personal development. Together with Durham University, the focus of this programme is on:
Ethics
Responsibility
Sustainability
Diversity
Inclusion

In addition, we support you intensively with our leadership modules:
Leading Yourself
Individual coaching to help students realise their true potential.
Leading Teams
You work as part of an interdisciplinary, multinational team. Here you enhance your empathy, your communication and your ability to discuss convincingly.
Leading Organisations
You will work on a real-context business project. Learn the challenges and approaches to solutions in a real-life environment.
---
Characteristics and skills
Your profile
There is less and less time to gain and broaden experience and to grow into new positions. Therefore, an Executive MBA study programme best complements an existing degree with work experience. The Executive MBA of EBS University and Durham University is aimed at anyone with management, personnel and/or budgetary responsibility who wants to sharpen their leadership skills further and broaden their expertise.
---
Participating in the Executive MBA programme at EBS University, you will experience an ideal interaction between theory and practice. The study programme provides you with state-of-the-art management know-how and economic expertise at a high academic level. In addition, you can continue to work parallel to your studies without loss of income and put what you have learned directly into practice.
---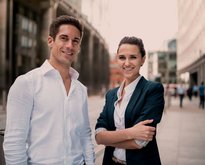 Application process
Admission requirements and application
The Executive MBA at EBS University trains future managers who help shape and drive the economy. This process begins by finding the right people for our management study programme.
---
Begin your application by submitting the following documents
University entrance qualification and a Bachelor's degree with at least 180 ECTS or an equivalent recognised qualification
Proof of at least five years professional experience
OR
A Master's degree with at least 90 ECTS or an equivalent recognised qualification
Proof of at least three years professional experience
AND
English language certificate (e.g. TOEFL, IELTS)
A curriculum vitae in tabular form
A letter of motivation
Academic certificate (in original language and English)
Please send us your documents online. We will check them immediately. We look forward to meeting you at an individual selection interview if you meet the requirements.
---
---
As part of our multi-stage application process, we evaluate each individual's performance and ability to study. We take a great deal of time and the greatest possible care for this procedure - because we only take on the most suitable applicants from a particular year.
You can complete the admission procedure either online or offline.
Individual selection interview
If your application documents meet our admission requirements, we will invite you to a 50-minute individual interview. Here we are assessing your motivation and social skills. The decisive factors are performance and learning motivation, the social-communicative profile, the willingness to take social responsibility and the applicant's own initiative.
Final Consultation
In a concluding discussion with you, we will clarify final details and questions about your studies and define your expectations of the EMBA. You will also receive personal feedback from us based on your documents. Here you will be informed about which points you might need to work on more intensively to complete your studies at EBS University and Durham University in the best conceivable way.
We aim to communicate the results as soon as possible. In this way, we guarantee you planning security. If you receive a study place offer from us, we look forward to welcoming you to our campus at the beginning of the autumn semester. You will find the dates at the top of the study programme profile.
---
Tuition fees and funding
An investment in your future
We focus on the quality of teaching. EBS Universität stands for one of the best management education programmes in the entire German-speaking world. You need to plan the following investment for the Executive MBA study programme at EBS-Durham University:

Total tuition fees: 40,000 EUR

We try to enable all excellent applicants to study - regardless of their economic situation. Your performance, motivation and personality are decisive here. There is a wide range of options for financing a study programme. In many cases, it makes sense to combine various options. Take a look at the possibilities of scholarships and student funding. Here, you can find out which option is best for you.
Student Financing
To the application
You have questions about the application process?
We will advise you personally on all questions relating to the study programme, student finance and studying at EBS in general.
Advisory issues
Apply now
Suitable programmes
Relevant for you