back
Make a difference. As a leader.
Bachelor in Business Studies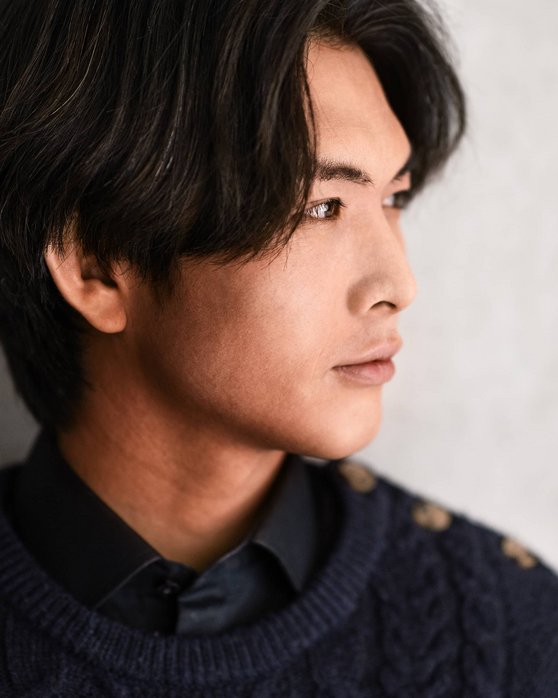 Learn to change the world in Oestrich-Winkel. The EBS Bachelor in Business Studies trains future leaders. Strong characters who gain the tools, the contacts and the opportunities to make a difference in the world.
Application
6 semester
180 ECTS
52,020 € total
Full-time
Spring and Fall Term
English
incl. stay abroad
6 Specialisations
Spring Term to 22.01.2024
Fall Term to 26.08.2024
Our pledge
Be part of a better future
EBS University offers you unique leadership training. We strengthen leadership skills with individual coaching, on-the-job training, field studies and an integrated stay abroad. Because we know that only strong personalities "up there" will make the difference.
---
The world studies here for a better world.
EBS is international to the core. People from all over the world meet here to train as leaders. Firmly established in the curriculum, but also through the services of the Coaching & Leadership Hub, we demand and promote openness, the ability to think outside the box, be flexible, and successfully assert oneself in ever-changing situations. Learn more about life on campus in our video.
EBS is linked with 200 universities around the world. This allows our students to study abroad for one, two or if they decide for a double degree even three semesters.

Better teaching programmes mean people with more vision.
Besides studying, you have the opportunity to organise large business congresses, do sports together or get involved in social activities. And so you grow as a person and as a leader.
Learn to lead directly. Das EBS Onboarding Project:
The first semester starts for all students with the 2-week Onboarding Project: In the spirit of challenge-based learning, you plan and realise a project with a practice partner. Deep dive from day one, solve challenges together and present your results at the end of the project. Experience exciting lectures, field trips and presentations on the big stage. Interdisciplinary learning, teamwork, creative problem-solving and presentation skills will be trained here. There is no better way to prepare for real business life.
Family & Friends.
Over 200 partner companies accompany the EBS students during their studies. The circle of EBS-affiliated partners ranges from small to medium-sized companies, international corporations and renowned DAX companies. Many former students immediately start their careers in one of our numerous partner companies.
---
Contact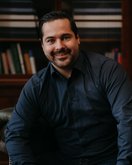 Markus Herzger
Student Recruitment Manager
Perspectives
The world is waiting for you.
After studying at EBS, the world is open to you. With our business and industry partners and our strong alumni network, you have the best career prospects.
Corporate partners
Many years ago, I decided to study at EBS because I was particularly impressed by the small group concept with intensive learning units and the targeted professional and personal support.
Our graduates assume diverse positions and are among the best in their fields. This way, they are given the tools required to follow various career paths. Whether that is the classic consulting career, a position with global players, taking over a family business, joining an NGO, or founding a start-up.

In recent years, 13 EBS students have made it into the "Forbes 30 under 30" ranking - just one sign of our graduates' success. Our Career Service Centre supports you in your career choice and in your networking with our partner companies. You can get in touch with our alumni at any time via the Alumni Association.
In fact, 91 percent of graduates receive their first job offer during their studies or at the latest three months after graduation. The renowned EBS University also makes a significant difference as far as salary is concerned: the average starting salary of our bachelor graduates is 53,000 EUR.
(Source: EBS University, Employment Report)
Personalities
Made by EBS
Any university is only as good as the people who teach and learn there. Just how good EBS is can perhaps be gauged from our network of more than 10,000 former students. In the EBS Alumni Association, more than 3,400 alumni are actively involved in supporting our students.
They all have their very own story connecting them with EBS.
Learn more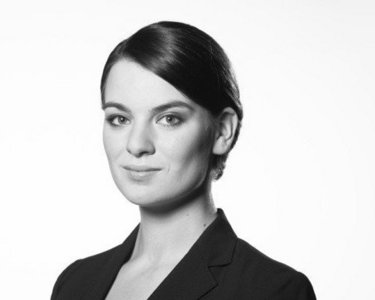 Christina Baumann, Founder of the Montgomery & Miller Academy (EBS Alumna)
There is a special sense of community at EBS University. Characterized by commitment and entrepreneurial spirit, it endures across generations.
Study programme structure
Bachelor in Business Studies (B.Sc.)
You start your six semesters with a two-week Onboarding Project. In your second year, you will spend at least one semester at one of our 200 partner universities abroad.
If you choose the dual degree option, you study for three semesters at EBS and three at a partner university. During the summer months, internships are planned, optionally also abroad. We offer language courses (incl. country specifics and culture) in preparation for your time abroad.
International business studies with a degree at EBS University
Business studies with a degree from EBS University - you spend five semesters at EBS University and one semester abroad (learn more in this video). Optionally, the programme can be extended by a seventh semester to increase the ECTS to be earned to 210.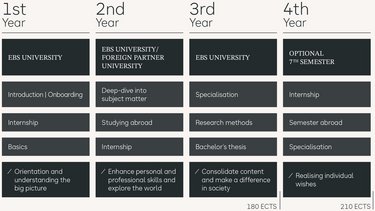 Dual degree option
You spend the first part of your studies at EBS University and then transfer to one of our partner universities for the second part of your studies. This will give you a Bachelor of Science degree from EBS and a degree from your university abroad.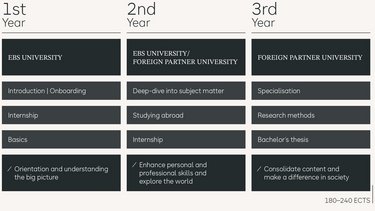 Study content
This is what you learn during your study programme
EBS graduates take on management tasks and social responsibility in a highly dynamic environment. Our students learn to penetrate complex structures, constantly review specialist knowledge they have gained and, if necessary, to develop this systematically.
---
The compulsory courses consist of all essential areas of business administration and economics. Teaching is interdisciplinary and based on the modular-integrative concept:
We combine related subjects into networked teaching units (modules), linking methods and theory with specialist applications (integration). In this way, you can quickly recognise the sense and benefit of methods and theories and will acquire knowledge more easily and sustainably.
Study year 1:
Initial Practice Project (EBS Onboarding Project)
Introduction to Management and Business Studies
Academic Writing, Effective Communication, and Personal Mastery
Quantitative Analytics I
Financial Accounting
Decision Theory and Investments
Marketing and Sales
Introduction to Economics
Quantitative Analytics II
International Management
Strategy, Entrepreneurship and Innovation
Business Law
Study year 2:
Economics of Firm and Markets
Operational Excellence and Corporate Finance
Operations and Supply Chain Management
Data Science and Econometrics
Business Taxation and Portfoliomanagement
Study year 3:
Managing People
Managing Organisations in the Digital Age
Electives in Economics and Management
Social Impact Project
Research Methods
Business in Society
Bachelor Thesis
---
---
A distinctive feature of the Bachelor in Business Studies at EBS: You can study according to your interests, goals and talent already in the Bachelor's programme. You decide on a specific focus in the 5th semester.
Business Psychology & Coaching
Entrepreneurship & Innovation
Finance & FinTech
Marketing & Sales
Real Estate Management
Strategy & Consulting
---
Accreditations
Studying with distinction


AACSB accreditation
AACSB (Association to Advance Collegiate Schools of Business) is a global not-for-profit organisation that brings together educators, students and businesses to achieve a common goal: to educate the next generation of leaders. Since 1916, AACSB has stood for the highest standards of quality, providing quality assurance, business education information, and learning and development services worldwide.
AACSB


Wissenschaftsrat
In 2022, EBS Universität was reaccredited by Wissenschaftsrat, the German Council of Science and Humanities, for the next 5 years.

This academic seal of quality is awarded to non-governmental universities whose performance in teaching and research meets recognised scientific standards. The period of accreditation by the Wissenschaftsrat is for a maximum of ten years, depending on the outcome of the review process. The Wissenschaftsrat is one of Germany's most critical science policy advisory bodies and advises the federal and state governments on developing universities, science and research. In the multi-stage accreditation procedure, which includes the submission of a self-report by the university and a visit to the university by an external group of experts over several days, the university is evaluated in eight key areas. These include its academic quality in research and teaching, its structures and equipment, and its quality assurance and development.
Wissenschaftsrat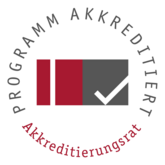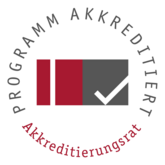 Stiftung Akkreditierungsrat
All study programmes at EBS Universität are accredited by the Accreditation Council and are reviewed regularly in cooperation with the accreditation agency FIBAA.

The superordinate Foundation Akkreditierungsrat is an association of the German federal states aiming for quality assurance in learning and teaching at German universities. Since 2018, following the conversion of the German accreditation process, the Akkreditierungsrat has focused on the decision of accreditations. These are based on reviews of the accreditation agencies on programme accreditations as well as system accreditations. Thus, the Akkreditierungsrat plays an essential role in the final evaluation of the respective study programme. The Accreditation Council only accepts expert reports from accreditation agencies that have the EQAR registration of the Accreditation Council. The degree programmes at EBS Universität have been assessed by FIBAA, which is notably recognised in business and economics.
Stiftung Akkreditierungsrat
Characteristics and skills
Your profile
Studying Business Studies at EBS University demands a great deal from you:
The will to work on oneself, discipline, empathy, openness, curiosity, sense of responsibility and a strong backbone. Many different characters come together here to challenge and inspire each other. That is why we always look for people willing to make the most of themselves. To make the best of our future.
---
If you have the following qualities and skills, nothing stands in your way of successfully completing your Bachelor studies:
Soft skills including communication, teamwork or negotiation skills
Sense of responsibility and the courage to find creative solutions to problems
Very good knowledge of English, as our courses are held in English.
---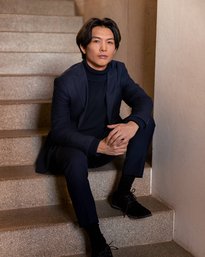 Selection process
Admission requirements and application
The Business Studies programme at EBS University trains future managers who shape and drive the economy. This process begins by finding the right people for our management study programme.
---
Would you like to study at EBS Universität? Start your application by submitting the following documents on our online platform:
Curriculum vitae in tabular form

Proof of general higher education entrance qualification. An application can also be submitted with your current transcripts if the school-leaving certificate is not yet available.
International applicants who have a secondary school diploma that does not follow the German higher education standards need to complete a 120-minute EBS online assessment instead of the regular tests. If you have taken the SAT, ACT or Gaokao, we will recognise this exam in conjunction with your secondary school diploma instead of the EBS online assessment.
---
---
EBS does not have application deadlines. However, early applications are always recommended, particularly for international candidates and those looking to receive financial aid. You can learn more about the application process in our video.

Online application
You can submit your application documents in just a few steps on our online application platform, thus initiating your application process.

Knowledge and personality test
We use the knowledge test to assess your mathematical and logical-analytical abilities as well as your problem-solving skills, which are necessary for successfully completing your studies. This part of the selection procedure takes about 30 minutes.
The personality test is a self-assessment of your suitability for the business or law degree programme at EBS Universität. It helps you to assess whether the study programme you have chosen suits you and meets your expectations. This test takes about 20 minutes.
Good to know: if you have taken the SAT, ACT or Gaokao, we will recognise this exam in conjunction with your secondary school diploma instead of the knowledge and personality test and instead of the EBS online assessment for international applicants.

Personal selection interview
In order to get to know you personally and to be able to assess you even better, we conduct a 30-minute individual interview. Here we assess your motivation and social skills. During this procedure, the decisive factors are performance and learning motivation, your social-communicative profile, your willingness to take social responsibility and your initiative.

Final decision
We will inform you of the final decision no later than one week after the selection interview.
---
Tuition fees and funding
An investment in your future
We focus on the quality of teaching. For the Bachelor in Business study programme at EBS, you need to plan for the following investment:

Total tuition fees: 52,020 EUR

We try to enable all excellent applicants to study - regardless of their economic situation. Your performance, motivation and personality are decisive here. There is a wide range of options for financing a study programme. In many cases, it makes sense to combine various options. Take a look at the possibilities of scholarships and student funding. Here, you can find out which option is best for you.
Student Financing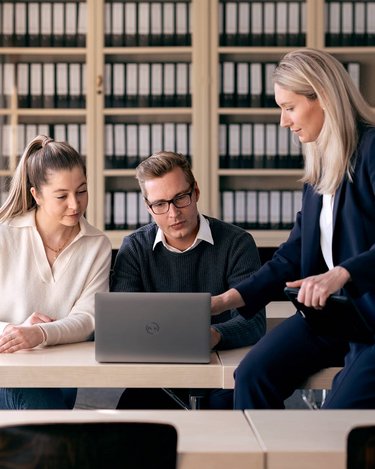 Studying at EBS
Become part of a great community
The people who teach, research and learn here and who eventually go out strengthened into the business world make EBS what it is: an incomparably strong community. Get a glimpse of the student-organised congress "EBS Symposium", which says a great deal about life on campus and student team spirit.
The EBS Symposium is one of the largest and most renowned student-organised business congresses in Europe. During the three-day congress, the EBS Symposium deals with current topics relevant to business and politics.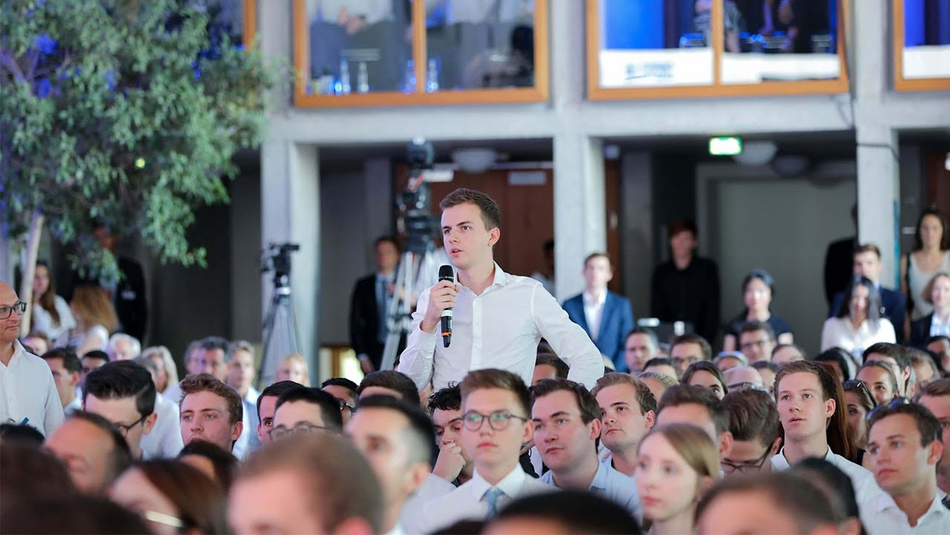 To the application
You have questions about the application process?
We will advise you personally on all questions relating to the study programme, student finance and studying at EBS in general.
Advisory issues
Apply now