The future belongs to generalists
Bachelor in Law, Politics and Economics
The world needs more specialized generalists. EBS University develops them. Learn to change the world here. With the Bachelor in Law, Politics and Economics, you gain the tools to make a difference in the world.
Application
6 semester
Full-time
180 ECTS
46,020 € total
incl. stay abroad
Fall Term
English
Our pledge
You can only have vision when you are at the top
You don't have vision in the free economy if you put on blinkers. Now and in the future, well-educated generalists will be pioneers. Personalities who shine in many disciplines and easily combine them. With a distinctive international and interdisciplinary approach, EBS University trains the leaders of the future.


---
This is where the world studies for a better world.
EBS is international: people from all over the world meet here to learn to become leaders. In the curriculum itself, as well as through the services of the Coaching & Leadership Hub, we demand and promote openness, thinking outside the box, flexibility and the ability to assert yourself successfully in ever-changing situations.

Better teaching programmes produce people with greater vision.
The degree programme offers a unique mix of subjects. It integrates internationality and interdisciplinarity and thus prepares students for the challenges of the future. EBS maintains partnerships with 90 universities worldwide and a semester abroad is integrated into your studies.

Business administration and law are part of our DNA.
Privately founded as a university of economics in 1971, it has set itself the task of improving the business world, and does so with exceptional levels of commitment and character. The Law School was added in 2011. Born of the same spirit, today, outstanding professors who are passionate about their profession pass on their knowledge, which is why there, too, the students achieve excellent exam results. The combination of the two subject areas forms the best basis for teaching this interdisciplinary course.

Family and friends.
More than 200 partner law firms and companies support EBS students on their journey: the group of affiliated partners includes large international law firms, small to medium-sized companies, major international corporations, and well-known DAX-listed companies. Many of our former students started their careers at one of our numerous business partners immediately after graduation.
---
Contact
Sina Bräck
Student Recruitment Manager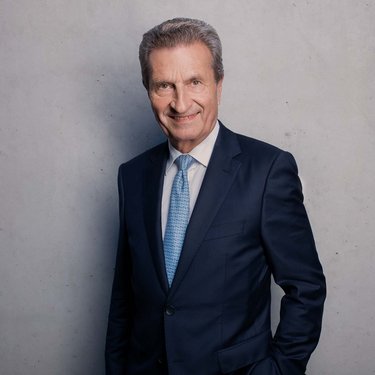 Günther H. Oettinger, President of EBS University and former EU Commissioner
Our goal for the new Law, Politics & Economics programme is to prepare students for the world of tomorrow. This includes excellence in a core subject, but also the ability to approach the tasks of the future as a generalist.
Perspectives
The world is waiting for you
The transformation to a knowledge-based society and advancing digitization have created huge demand for interdisciplinary and internationally oriented specialists and managers.
Added to this is the demographic change in Western society, which dramatically improves the opportunities for highly qualified staff on the labour market in the medium term.
Corporate Partners
---
Once you complete your Bachelor in Law, Politics and Economics, the world is your oyster. With our partners from business and industry as well as the strong alumni network, you have optimal career prospects: whether it is in management, strategic leadership, research or in the public communications of companies, associations, political and social institutions, non-profit organisations or think tanks. Starting a business is also an option that is open to you after graduation.
---
Personalities
Made by EBS
We successfully achieve our goal of imparting knowledge and values. This is proven by a network of more than 10,000 alumni who work in top positions. EBS Alumni e.V. is always there to support you during and after your studies. You see - we are a very big family.
Learn more
Study programme structure
Bachelor in Law, Politics and Economics (B.A.)
The programme comprises three years of study and is divided into law, political science and business administration. Each subject area is not only taught separately, but also interdisciplinarily. You start your studies with an intensive introduction to the disciplines of law, political science and economics. In the second year, you will focus on expanding your personal and professional skills. In the third year, you will spend a semester at one of our 200 partner universities abroad (learn more in the video). During the summer months, internships (8 weeks in total) are scheduled, optionally also abroad. To prepare for the semester abroad, we offer language courses (incl. country and culture). The programme ends with the Bachelor's thesis.
Study content
This is what you learn during your study programme
The Law, Politics, and Economics programme combines subjects from three disciplines and combines them with an international orientation. The combination of these perspectives enables graduates to take on leadership tasks and social responsibility in a highly dynamic environment. We enable them to independently penetrate complex structures and to think in new ways, as well as to permanently review and specifically further develop acquired specialist knowledge.
---
Law, Politics und Economics Methods
Basic International Law and Relations
European Law and European Studies
Basics Private and Criminal Law
Basic Economics – Macro, Micro, Statistics
International Political Economy
Law, Politics and Economics of Development
Securities Studies
Human Rights
Corporate Social Responsibility
---
---
Digitalization
Data Protection and Regulation of AI
Managing Information in the Digital Age
Social Media Regulation
Sustainability
Environmental Law
Klimageechtigkeit
Sustainable (De-)Growth
---
Get to know us
Events for potential students
Characteristics and skills
Your profile
Studying at EBS University requires a lot: the will to work on yourself, discipline, empathy, openness, curiosity, a sense of responsibility, and courage. Many different characters come together to challenge and inspire each other. That's why we are always looking for people who are willing to make the best of themselves. To make the most of our future.
---
If you possess the following characteristics and abilities, nothing stands in the way of you successfully completing the bachelor's degree:
Soft skills such as communication skills, teamwork and negotiation skills
A sense of responsibility and the courage to solve problems creatively
Very good English, because that is the language in which our courses are taught
---
Application process
Admission requirements and application
The study programme at EBS University trains leaders who shape and drive business, politics and society. This process begins by finding the right people for our Law, Politics and Economics programme.
---
Start your application by submitting the following documents on our online platform:
Curriculum vitae in tabular form
Proof of general higher-education entrance qualification or a foreign school-leaving certificate recognized as equivalent. An application can also be made with your last certificate if the Abitur certificate is not yet available.

We will check your documents without delay. If you meet the requirements, we will invite you to an individual selection appointment.
---
---
Online application
You can submit your application documents in just a few steps on our online application platform to start your application process.

Knowledge and personality test
With the knowledge test, we examine your mathematical, logical and analytical skills, as well as your problem-solving skills, all of which will be required to successfully graduate. This part of the admissions process takes about 30 minutes. With the personality test, you assess your own suitability for studying at EBS University. It will help you to find out whether the chosen course of study suits you and meets your expectations. This test takes about 20 minutes.

Personal selection interview
In order to get to know you personally and to be able to assess you even better, we conduct a one-on-one interview lasting around 30 minutes. In the process, we analyse your motivation and social skills. We are particularly looking at your desire to perform and learn, your social-communicative profile, your willingness to take on social responsibility and your sense of initiative. In addition, you will receive personal feedback from us based on the test results.

Final decision
We will inform you of the final decision no later than one week after the selection interview. The selection process is exhausting and exciting at the same time. We recognize this, and relieve the strain by communicating the results as quickly as possible. In this way, we ensure you have security for your planning. If you receive an offer of a place on our course, we look forward to welcoming you to our campus at the beginning of the semester in autumn or spring. The start dates can be found in the degree programme summary.
---
Tuition fees and funding
An investment in your future
We focus on the quality of teaching. For the Bachelor in Law, Politics and Economics study programme at EBS, you need to plan for the following investment:

Total tuition fees: 46,020 euros

We try to enable all excellent applicants to study - regardless of their economic situation. Your performance, motivation and personality are decisive here. There is a wide range of options for financing a study programme. In many cases, it makes sense to combine various options. Take a look at the possibilities of scholarships and student funding. Here, you can find out which option is best for you.
Student Financing
Studying at EBS
Become part of a great community
The people who teach, research and learn here and who eventually go out strengthened into the world make EBS what it is: an incomparably strong community. Get a glimpse of the student-organised congress "EBS Symposium", which says a great deal about life on campus and student team spirit.
The EBS Symposium is one of the largest and most renowned student-organised business congresses in Europe. During the three-day congress, the EBS Symposium deals with current topics relevant to business and politics.
To the application
You have questions about the application process?
We will advise you personally on all questions relating to the study programme, student finance and studying at EBS in general.
Advisory issues
Apply now
Suitable programmes
Relevant for you