back
09.05.2023
At EBS Universität, students enjoy excellent study conditions - this is the result of the university ranking published today by the Centre for Higher Education Development (CHE).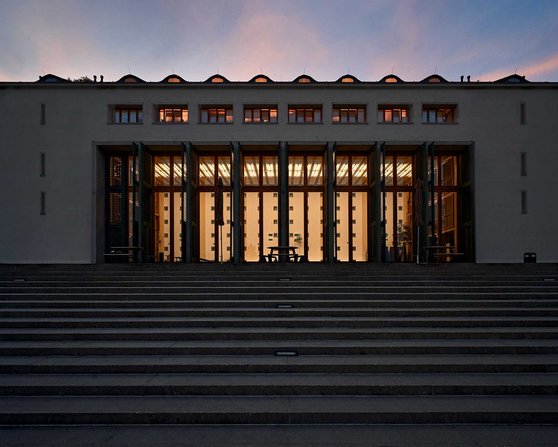 Once again, EBS Business School and EBS Law School convince students
The EBS Business School in Oestrich-Winkel is the only university to receive 5 stars in the department of business administration (BWL) in the overarching category "General study situation" as well as in the category "Support by lecturers" and thus occupies the first place in Germany. EBS Law School in Wiesbaden is also represented in the top group in numerous categories. The CHE ranking gives prospective students an essential orientation for choosing a university.
The CHE University Ranking reflects students' opinions on their university's study conditions. This year, for the first time, the results are presented using a 5-star scale, with average ratings of 4 stars or more counting toward the top range.
Business School: high practical relevance and individual support
In the subject of Business Administration, the EBS Business School receives above-average ratings. In particular, the university scored 4.8 stars for the general study situation and the support provided by lecturers (average for all universities in both cases 4.2). For example, the professors teach primarily in small and personal learning groups. The career orientation offerings (mean 4.9 stars / mean for all universities 4.0) and practical orientation of teaching (mean 4.8 stars / mean for all universities 3.7) are also rated above average. The in-house Career Services Center connects students with potential employers at career fairs or in fireside chats right from the start of their studies. More than 200 partner companies are part of the EBS network. Practice-oriented case studies and handling real business challenges are also standard in the programmes. Students also highly appreciate the support for stays abroad (mean score 4.7 stars / mean score for all universities 4.3).
Law School: Top scores for optimal exam preparation and personal support
In the law faculty, students also rate the support provided by lecturers particularly highly (mean value 4.6 stars / mean value for all universities 4.1). There is also an above-average rating for support during studies (mean 4.6 / mean for all universities 4.0), the introduction to academic work (mean 4.5 / mean for all universities 4.0) and support in preparing for exams (mean 4.6 / mean for all universities 4.1). Thanks to intensive learning in small groups and targeted preparation for the exam in particular courses, graduates demonstrably perform better than average.
EBS Universität: A concept that succeeds
"We have focused our entire university on educating students with a strong practical orientation in an international environment - and at the highest academic level," says University Rector Prof. Dr. Martin Böhm. "We are very pleased that our students appreciate this and reward it with outstanding ratings in this important ranking. The CHE ranking confirms the quality of our study programs and the university, thus providing valuable orientation for tomorrow's students."
The CHE University Ranking is the most comprehensive and detailed comparison of universities in the German-speaking area. It includes more than 120,000 students' opinions about their university's study conditions and facts about studies, teaching, equipment, and research in around 40 subjects at more than 300 universities. Each year, one-third of the subjects are re-evaluated. This year, law, economics and social work were examined. The CHE university ranking appears today in the ZEIT study guide 2023/24 and is now available digitally on HeyStudium.
You might also be interested in
Studie: Marktunsicherheit, Regulierung und Nachhaltigkeit sind aktuell die stärksten...

08.03.2023

Bühne frei für Start-ups und Gründungsideen

02.12.2022