back
01.09.2023
Together with EBS Impact Institute, EBS annually awards the SRH Social Impact Thesis Awards for exceptionally distinguished undergraduate, postgraduate, and doctoral theses that contribute significantly to our understanding of social impact.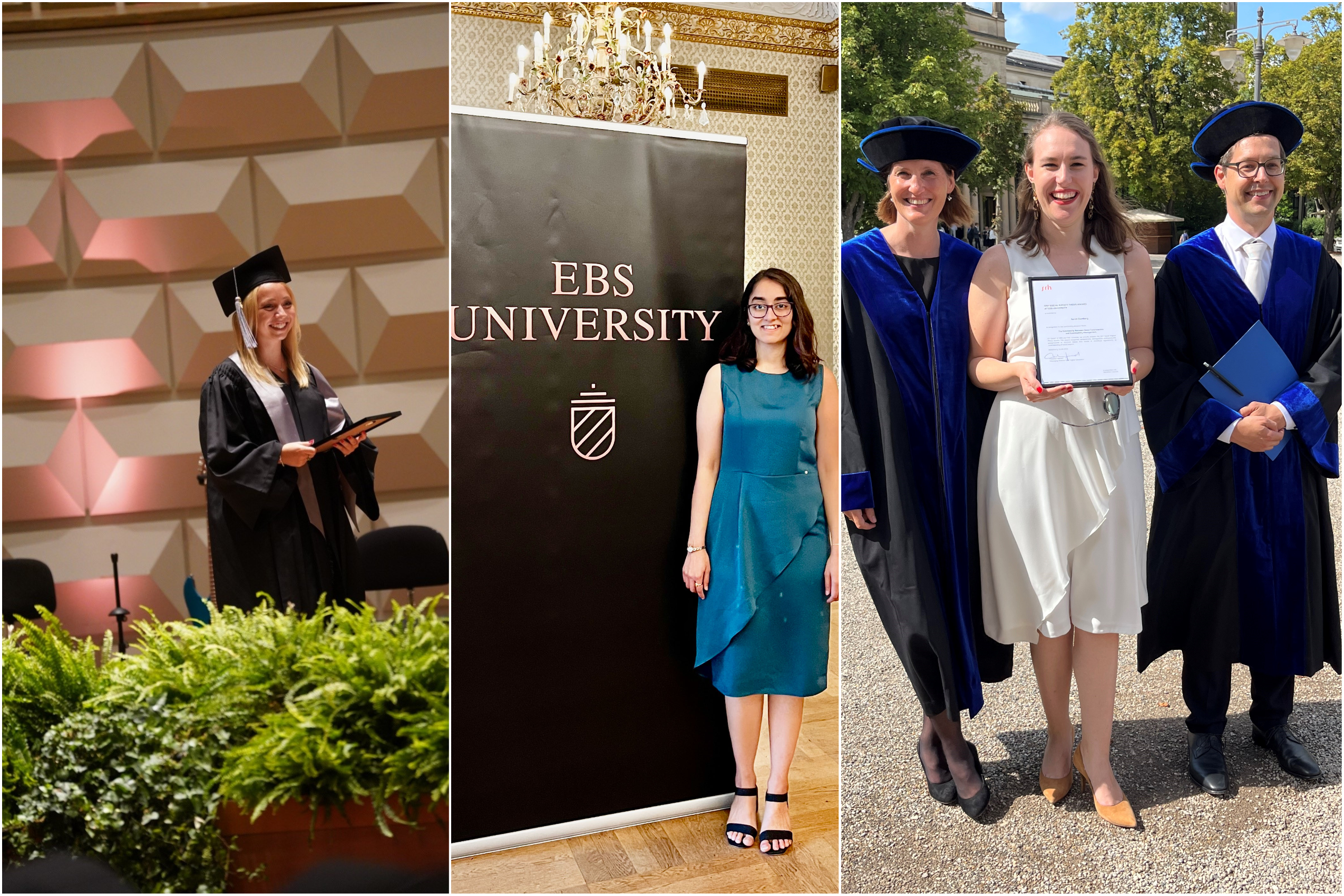 The awards are generously sponsored by SRH Higher Education and were granted with 1.000,- Euros each at the annual Graduation Ceremony on August 26th at the Kurhaus Wiesbaden.
This year, the Award Committee headed by Prof. Dr. Karin Kreutzer, Director of the EBS Impact Institute, chose the following thesis awards based on the nominations submitted by the supervisors.
Bachelor Thesis:
Paula Keim (Business School): "Mompreneurs: How female business owners balance the roles of being a mother and being an entrepreneur"
Paula Camilla Keim successfully defended her bachelor thesis entitled " Mompreneurs: How female business owners balance the roles of being a mother and being an entrepreneur" with an excellent grade of 1.1. The thesis uses a qualitative research approach to show how female entrepreneurs with young children (mompreneurs) perceive and overcome entrepreneurial challenges and opportunities and is of particular relevance with regard to the topic of social impact.
Master Thesis:
Aishwarya Manek (Business School): "Incentivizing Sustainability-Related Performance for Managers"
Aishwarya Maneks thesis is dealing with the highly relevant and impactful topic of how to successfully implement sustainable business practice in firms and society. This work, graded with an excellent 95.5% (1.2), certainly has important implications for not only for scholarly knowledge generation but in particular also for corporate governance practitioners who wish to promote long-term growth and viability of a firm.
Dissertation:
Dr. Sarah Damberg (Business School): " The Relationship Between News Controversies and Sustainability Management"
Sarah Damberg's outstanding doctoral dissertation, which was awarded summa cum laude (1.0), highlights the profound social impact of negative messaging related to corporate sustainability practices. Her research explores the transformative power of external pressures and illuminates the consequences of unethical or unsustainable practices within companies, providing valuable insights that can guide decision makers, empower stakeholders, and ultimately contribute to a more socially responsible and sustainable future.
Congratulations to the winners!