For leaders to develop, proper training is needed. In order to create optimal conditions, we have committed ourselves to Challenge Based Learning and cooperating closely with partners from the business world. Because they know best what the current challenges in the working world are.
We are currently working with over 200 partners from a wide range of sectors, from major international corporations to renowned DAX-listed companies, as well as with small and medium-sized enterprises and NGOs. Here are just a few examples:
Deloitte, KPMG, BCG, P&G, SAP, Porsche, BMW, Unicef, Volkswagen Foundation, Union Invest, Goldman Sachs and many more.
As a company, shape your and society's future. Through excellent work in science and research as well as young, motivated talents, we contribute to you being one step ahead of your competitors.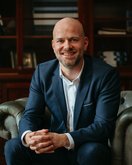 Daniel Kusebauch
Director of Corporate Relations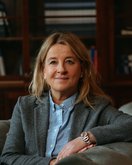 Susanne Schnabel
Director Career Services Center
Example cases with selected partners
---
We generate a measurable advantage in knowledge for our customers through focused employee development – such as for HypoVereinsbank, for which we have trained over 600 employees from the corporate and private customer business since 2020 on the topic of sustainability and sustainable finance in classroom training, online modules (podcasts and webinars) and a final online test to become a Sustainable Finance Expert (EBS).
---
---
Entwicklung nachhaltiger, marktrelevanter Produktinnovationen
The Siemens Product Innovation Lab supports the methodical development of market-relevant, sustainable products, solutions and platforms to promote process excellence in a digital world and accelerate innovation and business creation.
It focuses on the early stages of product development (from ideation to image scaling), particularly on the interaction between products, technologies, processes, networks, people, control mechanisms and stakeholders.
These goals should be achieved by combining leading academic research (EBS University) with first-class consulting (Siemens Advanta Consulting), thus bringing together an innovation network, successful PLM tools and state-of-the-art methods.
---
---
Big Marketing Technology Lab
The Big Marketing Technology Lab (BMT) addresses where and how we will use digital and / or physical instruments in marketing and sales along the customer journey in the future. The focus here is on digital brand experience. What does the trade fair of the future look like, for example?
Partners of BMT are Porsche, Deutsche Post DHL, Henkell Freixenet, B. Braun, University of St. Gallen and, in future, SAP.
The topics are set jointly by the partners: Current topics are Digital/Physical Customer/Brand Experience (in addition to emotionalisation on the Internet and hybrid marketing, this also includes formats such as branded entertainment, branded content & ESports) and Digital Transformation through Brand (building a digital corporate culture based on brand values).
---
---
Onboarding Projekte
Integration as practice partner into the teaching concept. For example, in the Onboarding Project, in which students work on real-life case studies with corporate partners from day one. This gives them direct visibility in an attractive target group, enabling them to network early and identify high potentials.
Here you can see a video of the onboarding project
---