The Health Care Management Institute (HCMI) at EBS Universität stands for excellent further education programmes in health care and health economics. From hospital managers to executives in health insurance companies and employees in pharmaceutical companies, health management experts value the extra-occupational qualifications offered by EBS Universität's HCMI.
Learn valuable tools and methods for managing your clients - whether patients, insured persons or business partners in the pharmaceutical industry - in our practice-oriented and academically focused intensive courses and applied lessons learned directly in small groups with case studies from your (company) practice.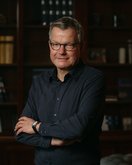 Prof. Dr. Ralph Tunder
Professor for Health Care Marketing
---
Aspiration and Expertise
With our help, you can grasp challenges as opportunities
In international comparison, the German health care system is considered one of the best medical care systems. It stands out as the growth engine in Germany. 5.7 million employees generate 391 billion in turnover, accounting for 11.7 per cent of the nation's gross domestic product (as of 2019). Meaning that the sector has a greater weight within the overall economy than, for example, mechanical engineering.
The Health Care Management Institute (HCMI) addresses the outstanding importance of the health care market!
We are convinced that learning and further education are not a singles match but can only succeed in the community and with personal contact with other participants and lecturers! This conviction guides our self-image.
Our claim for you:
Practical and application-oriented: To provide you with answers to the permanently changing and in part tightened framework conditions in the health sector, we teach state-of-the-art management know-how in a practical and application-oriented manner.
Background: We make it our business to teach you a profound knowledge of experiences, mechanisms, methods and procedures in the health market.
Transferable: We always design content teaching in such a way that you can transfer the knowledge you have learned to your specific professional concerns.
Participant-specific: The transfer effect we teach ensures participant-specific knowledge transfer.
Your benefit is our mission:
You will gain a foundation of theoretical tools to understand complex interrelationships of actions and reactions in the health market.
You learn to understand specific problem situations and to gain guidance for yourself and your area of responsibility.
You develop ideas in dealing with changed parameters for profiling and differentiation with your reference groups.
You find new ways of implementation as alternatives to previous measures. With our help, you can grasp challenges as opportunities
---
---
Research - Teaching - Further Education
HCMI works on inpatient and outpatient care (surgery and hospital management), together with its partners and experts from science and practice.
In addition to questions about organisational development (such as quality management and change management) and the strategic orientation of hospitals (new business fields and models), HCMI also deals with aspects of contemporary leadership styles (transformational leadership and empathic leadership) as a response to current challenges.
A further focus of the Institute is the analysis of critical success factors of market access and market cultivation of products of the pharmaceutical industry and medical device manufacturers (Market Access Management).
---
The Health Care Management Institute works closely with numerous partners from different sectors. In addition, there are other partners in science and practice cooperating with the chair.
There are many different forms of cooperation:
Research projects
Executive education
Working groups
Lecture programmes
Publication projects
Joint teaching activities
---
EBS Health Care Management: The 1st choice for studying health economics
Good reasons to study at EBS Universität:
Connection and contacts are everything
Global network
Strong connection to practice
An above-average starting salary
EBS graduates are in high demand
Intelligent study programmes guarantee flexibility
Best support and individual career advice
Plan your career with the start of your studies
---
---
Medicine is a matter of trust Further education even more so!
The health care system is Germany's growth engine. It is the source of the most significant impetus for progress and employment. The health sector is considered one of the largest economic sectors in Germany, with rapid growth figures.
Medical care in Germany sets standards and requires constant reform processes to maintain the status quo or meet future challenges.
As a player in the health sector, one has to rise to this development. Anyone who wants to be professionally successful in the health sector today must – in addition to their actual qualifications in medicine and pharmacy and nursing and insurance – also master the rules and modes of operation of health economics and management. By doing so, you can demonstrate your skills to patients or hold your own in interaction with superiors, colleagues and negotiating partners.
Successful careers start with us! See for yourself and read our graduates' statements.
---
---
For years, we have been qualifying staff in different training programmes specifically designed for your company or hospital. If you are interested in a qualification programme for your employees, please call us or send us a short message via our contact option. We would be pleased to make you an offer, specifically for your company, individually tailored to your needs!
---
Further information on research at EBS