back
Inauguration ceremony for Günther H. Oettinger as President and Professor Martin Böhm as Rector
13.09.2021
Günther H. Oettinger and Professor Martin Böhm were inaugurated as President and Rector with a festive ceremony in the new Forum of EBS Universität für Wirtschaft und Recht on Saturday, September 11, 2021.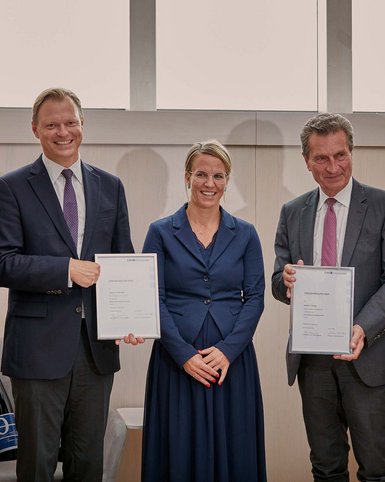 The inauguration took place in front of guests from politics, academia, university employees and students; the number of attendees was severely limited due to the applicable corona regulations.
After welcome speeches by the acting Managing Director of EBS Universität, Dr. Dorothée Hofer, the Chairman of the University Council and Head of the Search Committee, Dr h. c. Jörg-Uwe Hahn, and the student representative Charlotte Hesterkamp, a speech by Prof. Dr Christof Hettich, Chairman of the Board of SRH, followed. The inaugural certificates were presented by Prof. Dr Dr h. c. Jörg Winterberg, Managing Director of SRH Higher Education GmbH, and Dr. Christian Funke, Board Member of EBS Alumni e.V.
In his inaugural speech, Günther H. Oettinger congratulated the university on its 50th birthday: "50 years of private education is a tradition, culture and also a duty and responsibility. I am pleased when we look back together and also move forward. To survive in international competition, we must place our focus on education. It must be our ambition to educate young women and young men at EBS in all their talents and abilities and to give them the tools they need to become responsible leaders in the European economy. I want to do my part to keep EBS on track for success on its way to becoming a European champion."
"The passion for learning, the yearning for discovery, the commitment to make the world a better place, these are the foundations of any academic institution," Prof. Dr. Böhm began his inaugural speech. "Over the past few weeks, I have already been able to notice that these fundamental principles are very clearly anchored in EBS. I have also learned that at EBS we are driven by a deep commitment to always strive for higher things. The quality of our students and graduates reflects this aspiration precisely. The task now is to consolidate what we have achieved and become even better at research and teaching. EBS is already a national champion, now our ambition is to become a European champion. My goal as Rector of EBS is therefore to increase the international visibility and attractiveness of EBS Universität for students and lecturers around the world."
A surprise followed after the official ceremony: As a gift for the 50th anniversary of the university, Dr. Christian Funke presented a certificate to Managing Director Dr. Dorothée Hofer on behalf of the entire alumni organization: The alumni association is once again donating a professorship to its alma mater.
An informal get-together with personal exchanges followed this. Günther H. Oettinger and Prof. Martin Böhm already began their tenures as President and Rector at EBS Universität on September 1. They succeed Prof. Henning Werner, who, as Chairman of the Presidential Council, has been leading the university's academic matters together with the Presidential Council since July 2020.
The event also marked the opening of EBS Universität's newest event and lecture building: In the castle's inner courtyard, a technically high-end equipped "Forum" was built since the beginning of 2020.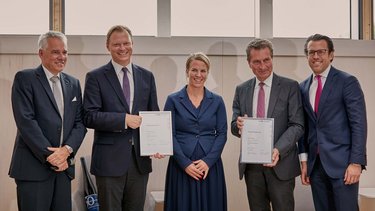 You might also be interested in
Studie: Marktunsicherheit, Regulierung und Nachhaltigkeit sind aktuell die stärksten...

08.03.2023

Bühne frei für Start-ups und Gründungsideen

02.12.2022