back
EBS Universität starts second construction phase: Campus Schloss gets a new Mensa
25.01.2022
The second construction phase on the Schloss campus of the EBS Universität in Oestrich-Winkel began on January 10 with demolition work on the interior of the annex building.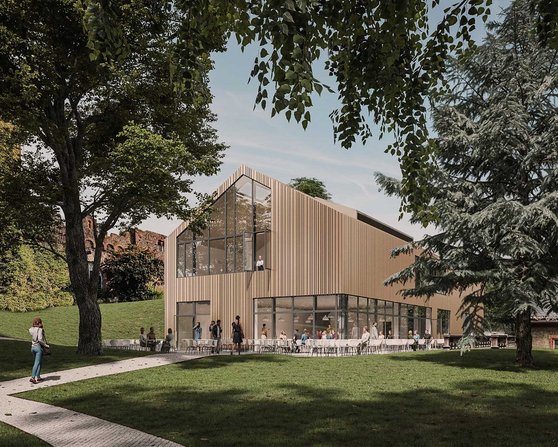 In addition to the refurbishment and renovation of the annex building, this also includes constructing a new multifunctional building with a canteen and seminar rooms. In total, the Heidelberg-based education and healthcare group SRH is investing more than 15 million euros in the second construction phase.
While the facade of the listed outbuilding will only receive a fresh coat of paint, the interiors will undergo a complete transformation. In addition to redesigning the floor plan, the roof, heating system and windows will be modernized to the latest energy standards. The university's administration will move into the barrier-free complex after its planned completion in 2023. Employees will then have access to a mix of single and double offices, meeting boxes, open spaces, and project rooms, making it much more conducive to agile working.
This fall will also see the start of the construction of a multifunctional building with more than 1,000 square meters of usable space, which will fit ideally into the surroundings between the historic castle and the annex building. The modular construction method ensures a shortened construction time so that completion is already planned for the fall of next year. The barrier-free building will contain a modern refectory on the first floor with seating for over 120, a large outdoor terrace, an inviting cafeteria area and an extensively equipped commercial kitchen. Three state-of-the-art seminar rooms for 40 to 80 students will also be built on the upper floor.
Dr. Dorothée Hofer, Managing Director EBS Universität: "The excellent education of our students requires excellent conditions. This second construction phase shows once again how powerfully SRH is investing in our Schloss campus because this is where the heart of EBS Universität beats. I am extremely looking forward to the upcoming work. And I look positively to the future with the hope that we can all gather together again on our campus soon."