back
EBS Universität recognised for outstanding career opportunities by Universum Talent Research 2023 Ranking
26.07.2023
We are thrilled to announce that EBS has been awarded two prestigious certificates by Universum's most known ranking: CareerTest.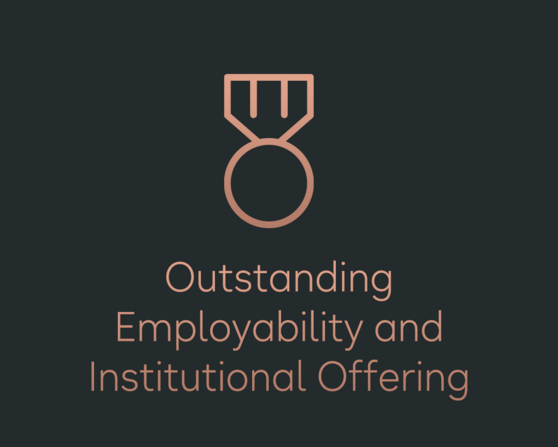 This recognition highlights our commitment to providing exceptional career opportunities and support to our students, making us stand out among universities worldwide.
Universum is renowned as the leading market research institute for employer branding. Their annual analyses encompass various aspects of student satisfaction, value attitudes, and university recognition. These certificates affirm the dignity of EBS with our comprehensive services and unwavering dedication to ensuring the best possible employability for our students. Among more than 2500 universities worldwide, only 170 institutions have earned one or more certificates based on evaluations of student satisfaction, employment support, and brand reputation surveys.
We are immensely proud to have received two certificates in the following categories:
1. Outstanding Institutional Offering: This certificate recognizes the exceptional commitment of EBS, providing a diverse array of courses and teaching relevant skills, ensuring that our students have access to a top-notch learning environment.
2. Outstanding Employability: This certificate commends EBS's outstanding efforts in preparing students for the workplace through strong ties with industry and abundant resources to support student employability.
We are delighted and deeply grateful to receive such high praise from our students. Their overwhelmingly positive feedback reflects one of the highest levels of student satisfaction we have achieved. We are truly honoured to be a part of the select group of universities that have received the Universum CareerTest certificates.
Thank you to all our students for their valuable input for this esteemed recognition.
Many thanks to the Career Services Center, who are an encouraging support for the students in terms of employability, and many thanks to the programme management and the faculty staff in your constant work at the institution!
Proud to be part of SRH.