back
EBS students elected to the Wiwi Talents high potential program
06.02.2023
From more than 145 entries, 14 talents from the field of economics were selected as deserving of support and elected to the WiWi-Talents high-potential program. Among them are EBS students Luisa Altmann and Maximilian Epplen.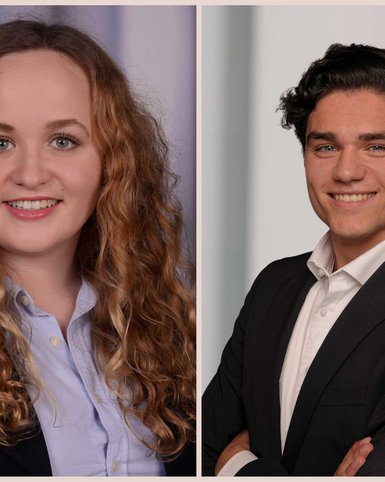 In the interview, they share with us how studying at EBS has influenced them and what they are planning for the future.
EBS: You were both recently chosen as one of the WiWi (business sciences) talents of the year 2022. Congratulations! What does an award like this mean to you?
Luisa Altmann: Thank you very much! The award means a lot to me and even more so because I wasn't expecting it. I tried to do my best this semester as I was very motivated by the course content. In this case, such a distinction is a great reward.
Maximilian Epplen: I am very proud to have been chosen as one of the WiWi talents of 2022. For me, this award is a confirmation of my hard work and commitment. It is also an inspiring opportunity to network with and learn from other talented personalities in my industry sector. I am grateful for this chance and look forward to continuing to grow and learn.
EBS: How do you think studying at EBS has influenced the career paths you are taking?
Luisa Altmann: Looking back at the start of my studies at EBS, I can say that I have not only learned a great deal in the professional field, but have also come a long way in my personal development. I find that the practical case studies have been particularly useful and effective in preparation for my future career. Thanks to the group work, I had a lot of opportunities to experience all aspects of team spirit. I was able to train my problem-oriented thinking processes, learned to solve internal conflicts, to advocate my own opinion, but also to accept the opinions of other group members, if these convinced me. For me, teamwork now means not only combining the strengths of all members of the team to achieve a good result, but also using the individual creativity of team members to reach the best possible outcome.
The "big players" in the real estate industry provided us with practical and theoretical know-how in their lectures, and thanks to the productive conversations with them, I realised that I am on the right path professionally. It was also good that the human factor did not come up too short when they talked about their own student days and their first professional experience. At the end of this study programme, I feel well equipped to enter the professional world with sound self-assurance and a good mixture of practical and theoretical knowledge.
Maximilian Epplen: Studying at EBS has influenced my professional career in several ways. Firstly, it has given me a solid theoretical foundation on which I could develop my practical skills. In addition, it has provided me with the opportunity to gain practical experience through hands-on projects and case studies, which are invaluable for my sector of industry. Also, studying at EBS has broadened my circle of friends and network, as well as giving me the chance to connect with experienced professionals in the industry. These connections have proved very useful in advancing my career and networking with others who have similar interests and aims. On the whole, I think that studying at EBS has made an important contribution to my professional development and I am grateful for the experience and opportunities it has offered me.
EBS: How do you see your future career path after graduating from EBS?
Luisa Altmann: After graduating from EBS, I want to enter the real estate industry by participating in a trainee programme because this will give me the opportunity to familiarise myself with the various professional areas of the real estate industry. Basically, my motivation is to take on a leading position in the real estate business. Spending longer periods abroad has significantly enhanced my intercultural skills and I consider this to be very important in today's world and also in the real estate sector. This has enabled me to learn about and appreciate different ways of thinking in different cultural contexts. I could definitely imagine working abroad for my future employers.
Maximilian Epplen: After graduating, I see my future career as a combination of personal development and contributing to the industry in which I work. My goal is to specialise further in my field and broaden my knowledge and my skills. At the same time, I want to use my expertise to address problems in my sector and develop innovative solutions. With this combination of personal development and contributing to the industry, I hope to make a positive impact on my career and the industry as a whole. As far as my career goals are concerned, I also see the opportunity to work in leadership positions and take responsibility for teams and real estate projects. I am motivated to take on challenges and further develop myself to reach my full potential.
EBS: What advice would you like to give to all students?
Luisa Altmann: It is important to respect the people you work with. It is also crucial to persevere in difficult situations and to never lose faith in yourself. It is alway worth being open to new ideas and projects.
Maximilian Epplen:
Be disciplined and consistent: set clear goals for your personal career and be consistent in pursuing them. It can be distracting to focus on too many things at once, but it pays to concentrate and work on your strengths and interests.
Networking: the network is invaluable. Meet other students, profesionals and industry contacts to expand your network.
Be patient and positive: career development is a process that requires and dedication. So, always keep calm when you encounter challenges and see them as opportunities.
EBS: How do you find your work-life balance?
Luisa Altmann: Time spent with friends is very important to me. I like to read and to experiment in the kitchen.
Maximilian Epplen: Long live sport! I particularly like playing tennis, volley ball or simply weight training.. This helps me to relieve stress and clear my mind. I also very much enjoy sitting in the sun and drinking a double ristretto.
EBS: What are you proud of and what are you looking forward to?
Luisa Altmann: The fact that it was my personal decision to take this demanding degree programme in real estate and that I am now going to finish successfully and with a good feeling. I look forward to starting my professional career and hopefully one day, as an EBS alumna, being able to tell young EBS students about my positive experiences in professional life.
Maximilian Epplen: I am proud of my achievements so far and the progress I have made on my career and educational path. There were also difficult hurdles that I was able to overcome. I have worked hard to reach my goals and I am very satisfied with what I have achieved so far.
As far as the future is concerned, I am looking forward to the opportunities that lie ahead. Each day holds new challenges and I look forward to every single one. I am motivated to succeed and make a positive contribution to my community and society in general, so that we can all work and live even better.
I am very grateful to my parents for their constant support. They have always encouraged me to pursue my dreams and I am deeply grateful for their endless support.
EBS: Thank you for the interview!