back
EBS at number 4 in the German Entrepreneurship Ranking
25.09.2023
EBS Universität excels in entrepreneurship ranking and entrepreneurship performance by Technical University of Munich.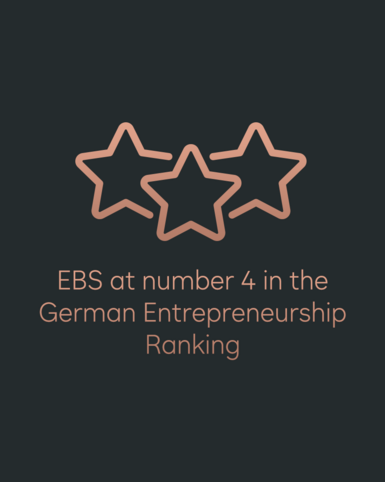 In a rapidly evolving landscape, universities are embracing the "third mission", expanding their traditional roles of research and education to include technology and knowledge transfer to society and the business world. This mission includes educating future entrepreneurs and nurturing emerging start-ups.
EBS Universität has demonstrated exceptional ability in this area, securing top positions in several categories in the German Entrepreneurship Ranking.
In the number of employees category, EBS comes second, showing that these start-ups are characterised by a high number of employees. With regard to the topic of financing, EBS start-ups stand out particularly in second place. The start-ups were able to seek financial support and successfully assert themselves. Our students have particularly excelled in industries such as "Food" and "Media", where EBS alumni have founded innovative companies.
Private universities like EBS outshine others in the relative rankings. When looking at the number of start-ups in relation to the number of students enrolled, the top seven positions are occupied by private institutions. Our smaller, close-knit community and our strong focus on fostering meaningful connections, including with our extensive alumni network, have proven instrumental in fostering entrepreneurship.
At EBS, we take great pride in our commitment to nurturing entrepreneurial talent, fostering a culture of innovation and providing comprehensive support to all students interested in starting their own business. With a vibrant alumni ecosystem, diverse networking opportunities, dedicated entrepreneurship programmes and inspiring talks and lectures on campus, we empower our students to embark on their entrepreneurial journey with confidence.
Click here to see the full ranking